Ted Cruz Is Desperately Trying To Defend This Ad Mocking His Rival's Name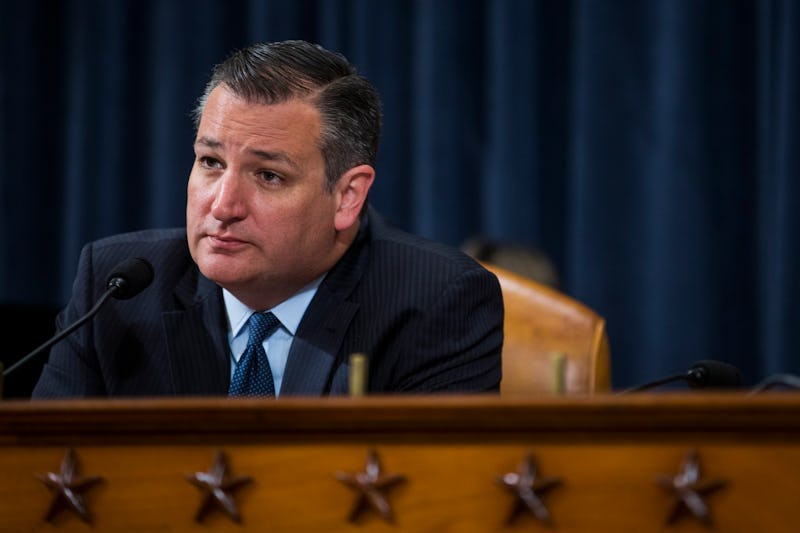 Zach Gibson/Getty Images News/Getty Images
As Tuesday's primaries came to a close, Texas Sen. Ted Cruz released an ad mocking Beto O'Rourke, his opponent in his state's Senate race. Cruz's Democratic challenger told CNN on Tuesday that his parents have called him "Beto" — instead of his full name, Robert — since his birth, but that didn't stop Cruz from making fun of it. Then, on Wednesday, Cruz attempted to justify the ad by claiming that he was "just having a sense of humor."
The ad took the form of a minute-long jingle, in which Cruz's campaign alternated being poking fun at O'Rourke for being a liberal and for going by the nickname "Beto." "If you're going to run in Texas, you can't be a liberal man," the jingle said. "I remember reading stories, liberal Robert wanted to fit in, so he changed his name to Beto and hid it with a grin." The jingle went on to suggest that O'Rourke wanted to "open borders" and "take our guns," arguing that these policies would discourage "millions of Texans" from voting for him.
CNN's Chris Cuomo asked Cruz why he would go after O'Rourke in this way, especially given that he didn't appreciate Donald Trump's name-calling during the Republican primaries. Cruz suggested that it was a question of humor, though he acknowledged on CNN's "New Day" that like O'Rourke, he also doesn't go by his given name. "You're absolutely right. My name is Rafael Edward Cruz," Cruz told Cuomo. "I am the son of my father Rafael Cruz, an immigrant from Cuba who came to Texas with nothing."
O'Rourke, meanwhile, chose not to respond to Cruz's ad. He made an appearance on "New Day" immediately after Cruz, and suggested that "the small, mean, petty stuff" likely isn't "what folks in Texas want us to focus on."
We can get into name-calling and talk about why the other person is such an awful guy, or we can focus on the big things we want to do for the future of our country, for the generations that will succeed us. ... We can focus on the small, mean, petty stuff, or we can be big, bold, courageous, and confident.
Even though O'Rourke chose not to directly engage after Cruz released the ad, he may be in for more "petty stuff" down the line: He and Cruz won their respective parties' nominations and will be facing off for Cruz's Senate seat in November, and it will be an important race to watch. Cruz has been a senator since 2013, and as Vox pointed out, he has a 50 percent approval rating among Texan voters despite not being very popular in Congress.
O'Rourke, meanwhile, has drawn significant amounts of attention by drawing large crowds all over Texas, even in extremely conservative regions. The Texas Tribune remarked that O'Rourke appears to have been following then Illinois Sen. Barack Obama's campaign strategy from 2007, when he insisted on campaigning in conservative areas of Iowa. Obama's aim was to minimize his losses in these conservative pockets and make up the difference in more urban areas — and O'Rourke seems to be pursuing a similar approach in Texas. Rather than writing off conservative counties as a lost cause, O'Rourke has campaigned in GOP and Tea Party strongholds, and has rarely attacked Cruz directly.
Although he has already starting poking fun at O'Rourke, Cruz admitted on Tuesday that he was "concerned" about Texas going blue. He urged conservatives to vote on Election Day this November, on the grounds that "the extreme left is energized and angry." Texas has long been a stronghold for the GOP, and Cruz insisted that he wasn't too worried, but it is worth noting that Democratic turnout has been rapidly increasing across the state since the 2014 midterm elections.