Teddi From 'RHOBH' Explains Why She Really Waited For Dorit For 54 Minutes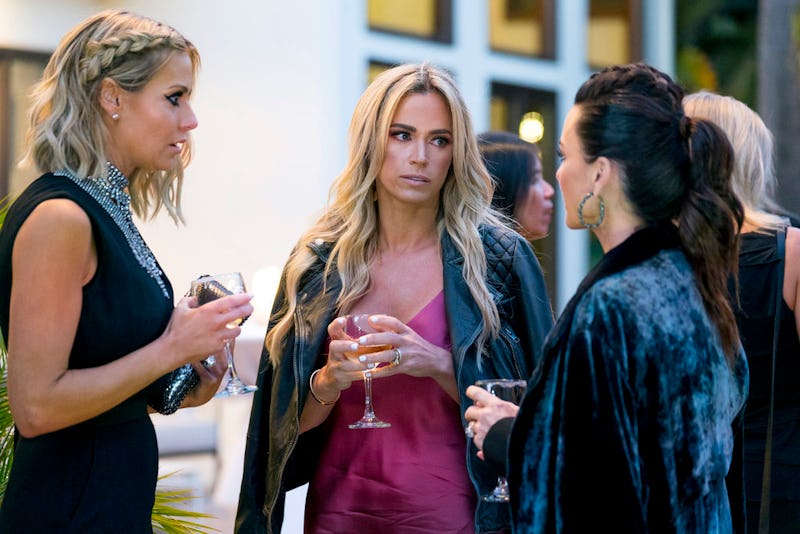 Nicole Weingart/Bravo
Season 8 of the Real Housewives of Beverly Hills is just getting into the thick of the drama — and mostly thanks to Teddi Mellencamp and Dorit Kemsley. If you're wanting more details about their meet-up that never happened during last Tuesday's episode, wait no more. While chatting with Bustle, RHOBH's Teddi explains why she waited 54 minutes for Dorit at a restaurant where the two intended to have drinks.
"Well, I mean, for starters, you see on the timestamp I texted her at 4:02 when I sat down," she says via phone. "Then, I didn't hear anything, but you also have to imagine there's a film crew sitting there." Basically, she wasn't sure what to do, especially since she was filming for the show.
The 36-year-old accountability coach explains further, "So, at first, I'm like shocked, what am I supposed to be doing? And that's where you see me kind of awkward, because, normally, you're sitting waiting for somebody and you may make some phone calls, but I'm just kind of sitting there because I don't really know what else to do at this point."
Teddi also adds that while she was waiting for Dorit to arrive, she wasn't mad at first, because she understands that when it comes to living in Los Angeles, people are going to be late. "I'm not really upset at this point," Teddi says. "I'm thinking, 'OK, maybe she's gonna be 15 to 20 minutes late.' That's normal in Los Angeles — 15 to 20 minutes, I give that grace period. The traffic's terrible."
However, Teddi says she slowly started to find issue when Dorit never reached out to her to inform her she was running late. "That's why at 4:36 I texted," Teddi explains. "I had also called, but that's not on [the episode], but I had called, as well." After Dorit called almost an hour after Teddi had arrived and said she was still going to be late due to traffic, Teddi says there was no point in waiting. "By that time, I had already paid the bill and I heard her driver say that she was still 15 to 20 minutes away. So at that point, I was like, 'OK, I'm gonna go. It is what it is.'"
As mad as some people might be about a friend being really late for drinks, Teddi says she wasn't. "I really, truthfully, wasn't upset," she says. "I really wasn't upset." But, what made her get upset was Dorit going around telling people about it.
As shown later in the episode, Dorit told Kyle Richards and Lisa Vanderpump about not meeting Teddi, and also told them she wasn't as late as Teddi had said she was. According to Dorit, they were supposed to meet at 4:30 (something she still stands by), not 4, like Teddi had thought. And the reason Dorit said she couldn't let Teddi know her whereabouts was because she was on an international call regarding her swimwear collection.
"The only part that had upset me was when I was talking to Kyle the next day and she had heard about it," Teddi says. "That's the part that triggered me. I wouldn't have brought it up. To me, it wasn't a big enough deal to bring it up. Like, it was a big enough deal that maybe I vented to my husband about it, but nothing I would have shared with a new group of friends." She adds, "The issue to me was how it was spoken about to Kyle and then Lisa Vanderpump, like I had done something. When really, I was just sitting there waiting for my friend for drinks."
Despite all of the confusion and drama, Teddi makes one thing clear: "I don't think Dorit is a malicious person or a liar, any of those things." But, she says their communication isn't the best. "I think Dorit and I, we can laugh together. We have some fun together, but, I think, we communicate totally differently." She continues, "Anything that she thinks kind of comes out of her mouth, where I'm more meticulous about what I say and do. That's just how I've always been. It's not good or bad that's just a difference in us. I think our communication is kind of is always going to go in circles."
It sure sounds like Teddi and Dorit might not get anywhere when it comes to who was late and who wasn't, but, based on a teaser shared by Entertainment Tonight, viewers will get an even bigger dose of their drama on Tuesday's new RHOBH.