'Teen Mom' Star Chelsea Houska Welcomes A Baby Boy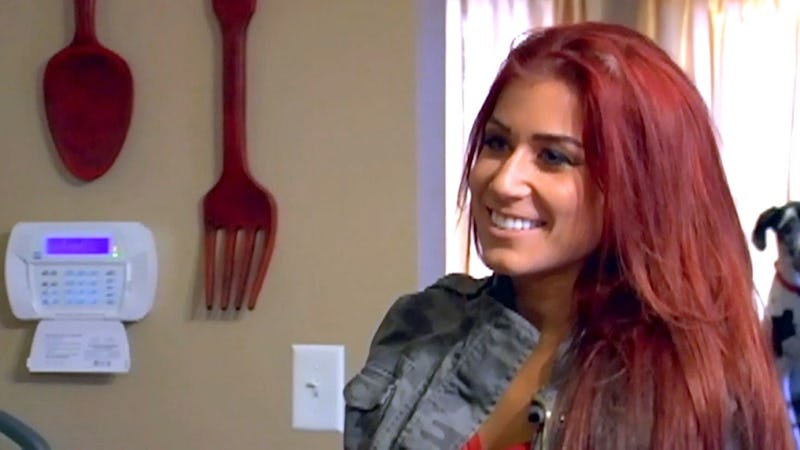 MTV
The baby is here! Teen Mom 2 Star Chelsea Houska and her husband, Cole DeBoer, are officially parents. The MTV star took to Instagram early on Wednesday to share the news, posting a sweet black-and-white photo of the newborn's hand. While the baby's name was not initially revealed, the picture let everyone know that Houska gave birth to a brand new baby boy.
The very first Instagram pic was captioned "Welcome to the world, sweet boy", but didn't give any hints about the baby's name. However, a few hours later Houska followed up with a picture of the baby wrapped up in a warm fuzzy blanket and stripey hat, captioned "Watson Cole".
Houska and DeBoer announced they would have their first child together in July. Since then the excited couple have documented every step of the pregnancy on social media, sharing plenty of bump pics and ideas for baby names. The couple announced that the baby would be a boy back in November with a special photo shoot, and have been calling him "little Cole-y" ever since.
While this is Houska's first child with DeBoer, she is already a mother to Aubree Houska. The 25-year-old mom and her current beau tied the knot in October, and have posted plenty of happy family pics throughout the year. The child was a highly anticipated addition to their little unit, and it seemed like Aubree couldn't wait to have a little brother. Fans are definitely going to be looking for updates when the couple finally get to bring the lil' baby home!
Welcome to the big wide world, Baby Watson, and congratulations to both Houska and DeBoer on their new son. There are sure to be plenty more baby and parenting updates to come on both parent's social media accounts.