Watch Andy Murray Effortlessly Shut Down A Reporter's Sexist Remark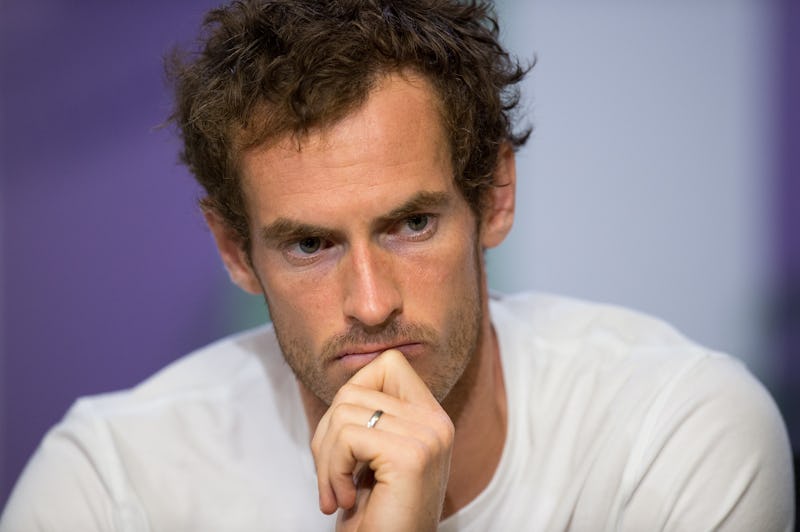 Pool/Getty Images Sport/Getty Images
It would be really great if female professional athletes were appreciated for their talent and not consistently treated as though their accomplishments were inferior to those of men. But, alas, this is not the reality we live in. Thankfully, for every sexist comment, there's always a snarky comeback, and this was definitely the case when British tennis player Andy Murray shut down a reporter's sexism during a post-game press conference at Wimbledon on Wednesday.
After the two-time Wimbledon champ lost his quarterfinal match to American Sam Querrey, a reporter described Querrey as "the first U.S. player to reach a major semi-final since 2009."
"Male player," Murray promptly interrupted.
"I beg your pardon? the reporter asked.
"Male player," Murray repeated.
"Yes, first male player," the reporter acknowledged with a nervous laugh. "That's for sure."
Murray didn't even crack a smile, and his stoic expression throughout the exchange seemed to convey some pretty severe annoyance that the reporter completely disregarded the pretty amazing recent successes that U.S. women have had. Serena Williams won the Wimbledon title just last June, and a handful of other American women have reached the semi-finals in the past few years.
You can watch the perfect exchange below:
This isn't the first time Murray has stood up for women's equality in the sport. In fact, The Guardian recently dubbed him "the feminist that tennis needs." On Tuesday, Murray criticized Wimbledon for hosting more men's games than women's games on Centre Court and Court 1, the main stages of the tournament. And earlier in his career, Murray frequently spoke out against the sexist remarks hurled at his female coach Amélie Mauresmo.
"Inequality is something I started to see and become passionate about," Murray said in 2015.
The fact that Murray publicly stands against sexism in tennis is inspiring, but it's also disappointing that sexism continues to endure. While it's great to see a man advocate for women's equality, it's concerning to see that so much more progress needs to be made — especially since Murray corrected a BBC Sport reporter for the exact same gaffe just last year.
In another blatant example of sexism, tennis legend John McEnroe told NPR earlier this month that Serena Williams, arguably one of the greatest tennis players of all time, would rank "like 700th in the world" if she were competing in the men's bracket. The statement seemed to completely delegitimize Williams' successes based solely on her gender.
Unfortunately, this experience is all too common for female athletes. And until things change for the better, it's great to see high-profile figures like Murray call out sexist remarks when necessary.