Tessa Thompson Is Being Compared To Goats On Twitter & She Totally Loves It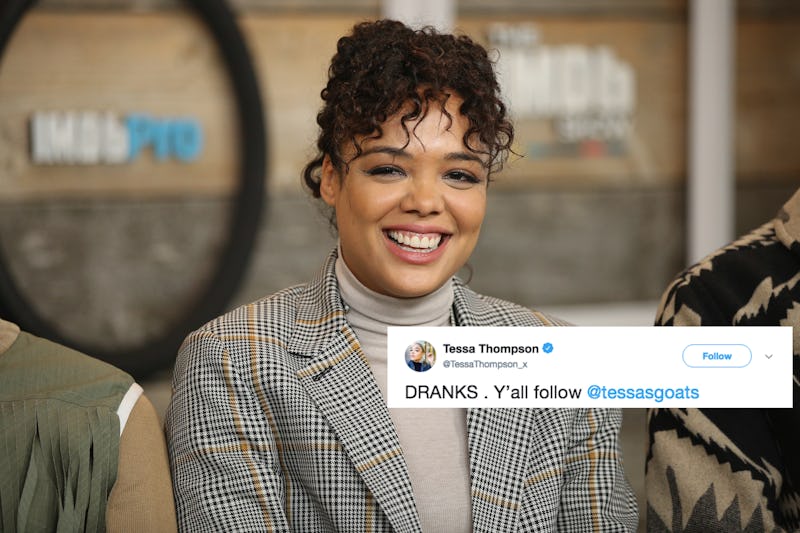 Rich Polk/Getty Images Entertainment/Getty Images
Twitter is an interesting place, to say the least. Now, the platform is being used as a place where Tessa Thompson is being compared to goats. You read that correctly. The Creed star is being compared to goats of all things. Before you get too upset and start hunting down anyone comparing the talented actor to the horned animal, she totally loves it. Really, Thompson thinks it's hilarious.
The meme seems to have started on March 18 when the Twitter account "tessa as goats" tweeted an image of the Thor: Ragnarok actor wearing the gorgeous rainbow color dress she wore to the 2017 Emmys next to an adorable goat wearing a rainbow sweater. Soon after Thompson saw the tweet, she replied to it on March 19: "Bless The Human Who Did This." From that moment on, comparing Thompson to goats has become a new trend.
According to the account, which was only formed in March, there will be "a new picture of tessa thompson as a goat every day". So whenever you're having a bad day or need a good laugh, just head on over to see what new picture there is of Thompson being compared to a goat.
The reason the person running the @tessaasgoats account started it probably has something to do with the 34-year-old actor admitting her love of goats. In a February interview with the Short List, Thompson confessed her infatuation with the animal.
"I'm really, really fond of goats," she said. Then, she made a comment that will make you adore her even more than you probably already do. She said, "I want to adopt a pygmy goat and name it Gal Dagoat, because Wonder Woman rocks."
Her talk of goats didn't stop there, either. The actor continued, "Goats are huge now, on the internet, but I've been a fan for ages. It's like when your favorite indie band starts getting recognition. I'm happy, but also… stay away from my goats, you know?"
Did you hear that? You best step away from her goats, because she loved them first and she'll be sure let you know just that. In addition to @tessaasgoats, fans have been creating their own Thompson/goat tweets. She's been retweeting a lot of them. For example, in reply to a tweet playing off of Thompson from 2018's Sorry to Bother You and featuring an image of a pinkish red goat, she wrote, "#SorryToBotherYou but I Love Goats".
And with that, let's check out some of pictures of Thompson being compared to her favorite animal.
Alcohol Is Sometimes Their Friend
Thompson retweeted this one and wrote: "DRANKS . Y'all follow @tessaasgoats".
They're Both Cat People
These are both extremely cute shots — the one of Thompson shows her in War On Everyone.
Ready For Action
It's like a scene straight out of Thor: Ragnarok.
Pondering In A Field Of Flowers
What could be a deleted scene from Annihilation.
So Much Love
The cuteness is too much.
A Play On Words
Get it? Because she starred in Furlough.
The creativity is real. Now Thompson is even using goats as part of her Twitter polls. On Wednesday, she tweeted a poll asking, "How should my character 'Bianca' wear her hair in Creed II ?" She listed two options for people to vote on: "Braids or Twists" or "Something New". About an hour later, she tweeted, "Basically : which?" and attached two photos: one of a goat with a braid and another goat with a curly coat.
At first, Thompson being compared to goats may sound strange and also somewhat insulting, but it's pretty hilarious. Plus, the fact that she's getting into the meme makes it all the better.