Texas' Bathroom Bill Is One Step Closer To Passing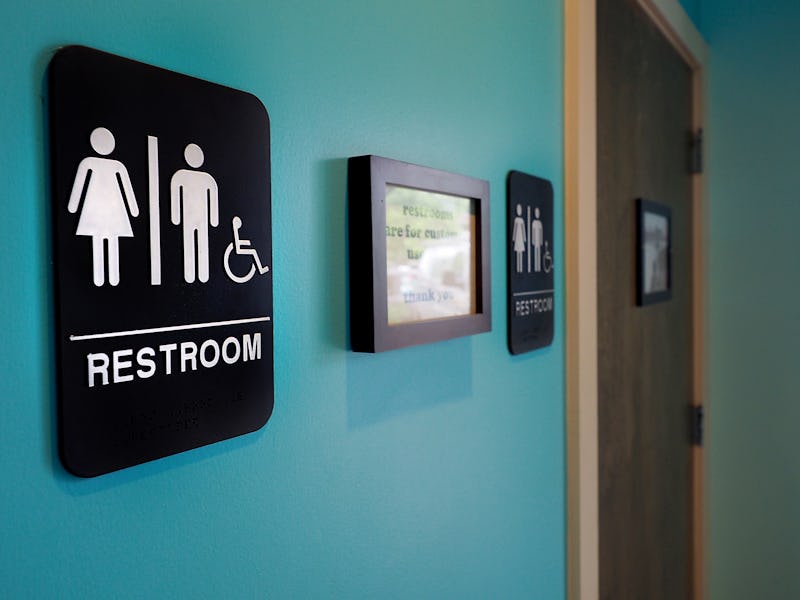 Sara D. Davis/Getty Images News/Getty Images
Attempts to discriminate against transgender people in the community by targeting public restrooms, otherwise known as bathroom bills, have started popping up in the last year. North Carolina passed a bill in 2016 requiring people to use the bathroom matching their legal gender by overturning local ordinances banning the discrimination of LGBT people. Despite efforts of Democrats in the state, it has yet to be repealed. Now, the fight has spread to Texas. On Tuesday, the Texas Senate approved the state's bathroom bill, Senate Bill 6, which would restrict transgender people's access to bathrooms that correspond to their gender identity in some instances.
The Senate voted 21 to 10 on the bill, with only one Democrat voting for it. The North Carolina bill faced outrage and backlash and even resulted in the state losing out on millions of dollars in business when it was signed into law by then-Gov. Pat McCrory. However, Texas' version is even more far-reaching. According to the Texas Tribune, SB6 applies to public schools, government buildings, and other publicly owned spaces.
During the debate before the vote, Republicans in the Senate clung to the ridiculous argument that the bill would keep men and boys out of women's private places, implying that it will make women safer. One Republican senator argued that not passing the bill would allow men to "do bad things and get away with it," according to BuzzFeed.
The bill will move on to the state's House of Representatives. While there are still several steps left before the bill would become a law, it's worrisome to hear how far along it is moving. Texas Lt Gov. Dan Patrick supports the bathroom bill and noted it as a top priority of the Texas legislature for 2017. However, the bill may face some challenges in the House. Texas Republican House Speaker Joe Straus has voiced his opposition to the bill due to concern over the hit that business could take if it were to be passed. He worried that it would make Texas less attractive to potential job-seekers.
Unfortunately, Texas is not the only state piggybacking on North Carolina's bill. As reported by The Guardian, at least seven other states plan to discuss bathroom bills this year: Alabama, Kentucky, Missouri, South Carolina, Virginia, Washington, and Minnesota. Luckily, Virginia Gov. Terry McAuliffe has already pledged to veto the bill should it make it to his desk. Hopefully, other state governors will take the same step to protect LGBT rights in their states if the bills do make it though the state legislatures.