Texas' Fetal Burial Law Has Gone To Trial — Here's Exactly What's At Stake For Women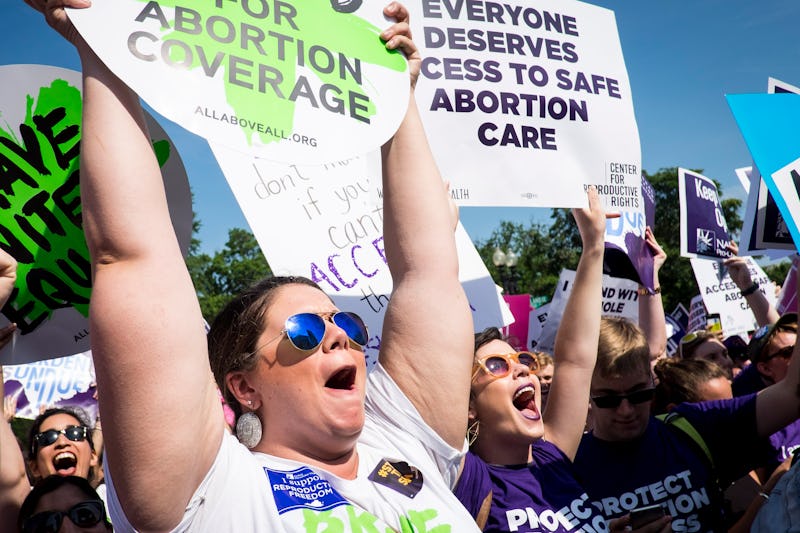 Pete Marovich/Getty Images News/Getty Images
A fight over fetal burial is taking place in the Lone Star State. Hinged upon a bill that was slated to go into effect Feb. 1, abortion rights activists are suing Texas for attempting to require fetal burial after abortions, miscarriages, and ectopic pregnancies. Requiring women to agree to funereal procedures after their pregnancies have ended, activists say, could have long-lasting impacts on women's health, and could work as a deterrent against those seeking abortions or medical care after a miscarriage.
"This politically-motivated law is designed to do two things: shame and stigmatize women and infringe on their personal autonomy," Molly Duane, a staff attorney for the Center for Reproductive Rights (CRR), tells Bustle. "These restrictions do nothing to improve public health, and serve only to take away patients' liberties by limiting options for women in a range of circumstances, including those seeking to end a pregnancy, experiencing a miscarriage, or diagnosed with an ectopic pregnancy."
In January, U.S. District Judge David Alan Ezra ordered an injunction against the legislation, known as Senate Bill 8, or SB 8. State officials are arguing that the law would preserve the dignity of fetal matter, rather than send it to sanitation landfills and sewers, the Houston Chronicle reports. The CRR is representing Whole Woman's Health, a privately-owned group which describes itself as "feminist organization committed to providing holistic care for women."
While the rule would impact what happens to a woman after she is no longer pregnant, abortion rights advocates believe its effects could have implications on women's decision-making process in the first place. And according to Amy Hagstrom Miller, founder of Whole Woman's Health, the rule could potentially impose values and religious beliefs on women who do not hold them.
"This is where the shame and stigma comes in," Miller tells Bustle. "She's made a decision and she's made a decision which makes sense within her own moral framework, and her own value system... And then this gets put on her, additionally, not by her own choice."
One major concern is that a woman would decline care, or have her health care decisions impacted by values that may not align with her own.
"If the bill were to go into effect, I think that women will be forced — no matter what their belief system is, no matter what religion they may or may not practice or believe in — they're going to be forced to partake in what feels like ritual associated with religion, when they have a miscarriage or when they have an abortion," Miller says. "They're going to be treated as other, they're going to be treated as different from any kind of regular medical procedure."
The trial is expected to last at least a week, and according to the Houston Chronicle, will not necessarily include the expected cast of witnesses. Instead of a string of doctors, the court is on deck to hear from funeral home directors who provide caskets for fetuses, a religious organization offering to cover the cost of cremation and burials, a woman who was forced to agree to burying her miscarried fetus, a minority health bioethicist, and a woman who ended her pregnancy after learning she would likely miscarry or have a stillbirth.
"It's a very emotional case, and so I would ask counsel to do the best job they can to try and tamp down some of the more zealous individuals in your respective camps so that we don't get a lot of extraneous stuff going on," Judge Ezra reportedly told CRR attorneys.
Though Ezra has placed an injunction on the rule, he said that doesn't necessarily mean he will ultimately rule against SB 8. For now, women are free to decline participating in any kind of cremation or burial, but whether it will stay that way in Texas is unclear.