Texas Officially Approves Adoption Bill That Allows Anti-LGBT Discrimination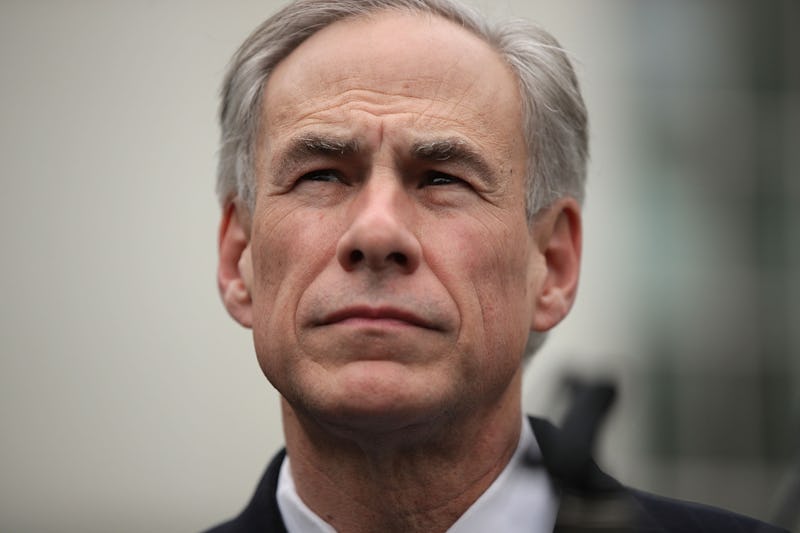 Alex Wong/Getty Images News/Getty Images
On Thursday, in the midst of Pride Month, Texas Gov. Greg Abbott signed an adoption bill which could potentially pave the way for discrimination against LGBT families. Critics fear the new law could be used to prevent LGBT parents from adopting or fostering children in the Lone Star State.
According to Reuters, House Bill 3859 allows religious and faith-based organizations involved in the state's adoption and foster-care systems to deny services in circumstances where providing services would violate their religious principles. The law passed in the state's legislature in May. Abbott had until Sunday to act on the bill, and while he chose to veto 50 bills on Thursday, the controversial adoption bill earned his stamp of approval.
According to the state legislature's website, House Bill 3859 sought to protect "the rights of conscience for child welfare services providers." It will now take effect on Sept. 1. Abbott's office did not immediately release a statement upon the governor's signing of the bill, but critics had plenty to say in his place. For instance, GLAAD tweeted that the law "allows agencies to turn away qualified LGBTQ families." GLAAD President and CEO Sarah Kate Ellis went further, saying that "a child can now be denied the chance to live with a loving family in Texas."
According to the Huffington Post, the new adoption law will also allow publicly funded child welfare services groups to send LGBT foster children to "conversion therapy." The use of conversion therapy has been a recurring issue in Texas. Back in February, a bill arose in the state senate that would allow therapists to practice conversion therapy. Like the new adoption law, that bill also sought to preserve religious freedoms. Last year, an anti-LGBT billboard appeared in Waco, Texas, promoting conversion therapy. The troubling billboard read, "Ex-gays prove change is possible."
It seems that LGBT issues will remain a concern in Texas beyond the state's new adoption bill. Next month, the state will hold a special legislative session, reportedly to address, among other things, a bathroom policy that would require public school students to use the bathroom that corresponds with their birth certificate. If passed, the bathroom policy would adversely affect transgender students across Texas.
The troubling news out of Texas comes as Americans gather across the country to celebrate Pride Month. With hundreds of thousands of people coming together in cities like Chicago, Orlando, and San Francisco, June's pride celebrations show that LGBT rights are a mainstream issue. Unfortunately, it's not clear that the conservative Texas government sees them that way.