Texans Say Voting Machines Were Changing Their Votes For Beto O'Rourke Or Ted Cruz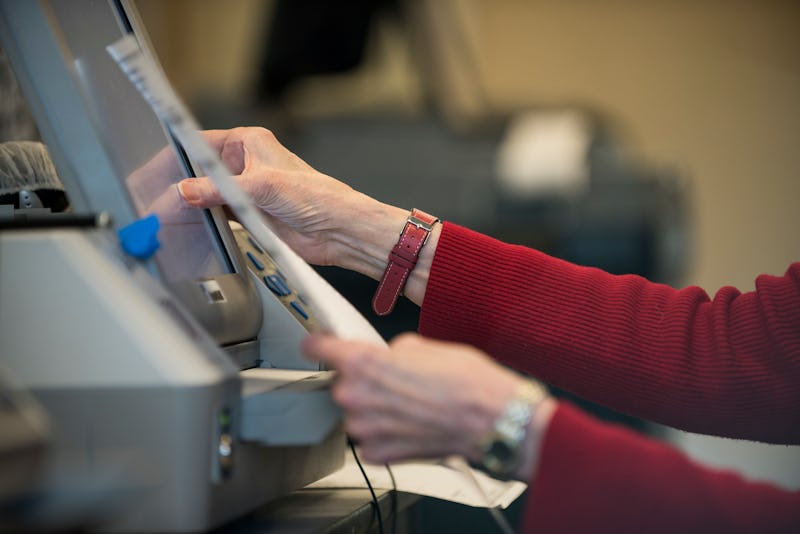 Stephen Maturen/Getty Images News/Getty Images
Reports that some voting machines in Texas have changed some people's votes during early voting for November's midterm elections have sparked concern among voters in the state. But Texas' secretary of state has said the changed votes are due to user error and not problematic machines.
"It is important for all voters in the 82 Texas counties utilizing the Hart Intercivic eSlate [machines] to understand that the voting machines are not malfunctioning, nor are they arbitrarily 'switching' the choices of voters who cast a straight-party ballot," Texas Secretary of State Rolando Pablos said in a statement issued Saturday.
As early voting got underway in Texas this week, some voters reported that machines appeared to be changing their vote for Texas' next senator when they attempted to cast what's known as a straight-ticket ballot, meaning they voted for every candidate in one particular political party. According to The Houston Chronicle, voters claimed that voting machines had either flipped their straight-ticket choice for U.S. Senate or left that section blank.
For example, Democratic voters seeking to vote straight ticket reported finding the machine had marked them as voting for Republican incumbent Ted Cruz while Republican straight ticket voters claimed machines selected Democratic Rep. Beto O'Rourke on their ballots. In most cases, however, Texas' Secretary of State's office said machines were reported as having left the selection for U.S. Senate blank despite a voter voting straight ticket.
According to Pablos' office, no voter who reported having their ballot changed by the machine to the secretary of state's office was unable to ultimately correct their ballot before voting. What's more, the Texas Secretary of State has said the reports don't constitute a problem with the state's voting system.
"After detailed examination and testing of the Hart Intercivic eSlate machines during the 2016 General Election, the Texas Secretary of State's office and local election officials determined this phenomenon is caused by a voter taking an action on the machine before it has finished rendering all the choices resulting from the voter's straight-party choice," Pablos' office said in a statement.
Hart Intercivic eSlate machines are used in 82 Texas counties, according to the Texas Secretary of State's office, which advised voters casting straight-ticket ballots on the machines to "wait at least 3-5 seconds for all choices to be rendered" and "carefully review" each choice listed on the machine's summary page.
"Each eligible Texas voter heading to the polls during this final week of Early Voting and on Election Day can rest assured that their vote will be cast and counted exactly as they intended," Pablos said. "No one is more committed to ensuring the integrity of Texas' elections than the statewide and local officials who are responsible for administering those elections."
Pablos went on to ask Texans "to pass along this message" in an effort to "stop the rampant dissemination of misinformation," which he warned was "eroding trust in our election system."
The Senate race between Cruz and O'Rourke has cast the state, and its voting machines, into the national spotlight as the two candidates are locked in a tight battle.