The 34 Best "Thank You Hillary" Tweets That Will Give You All The Election Feels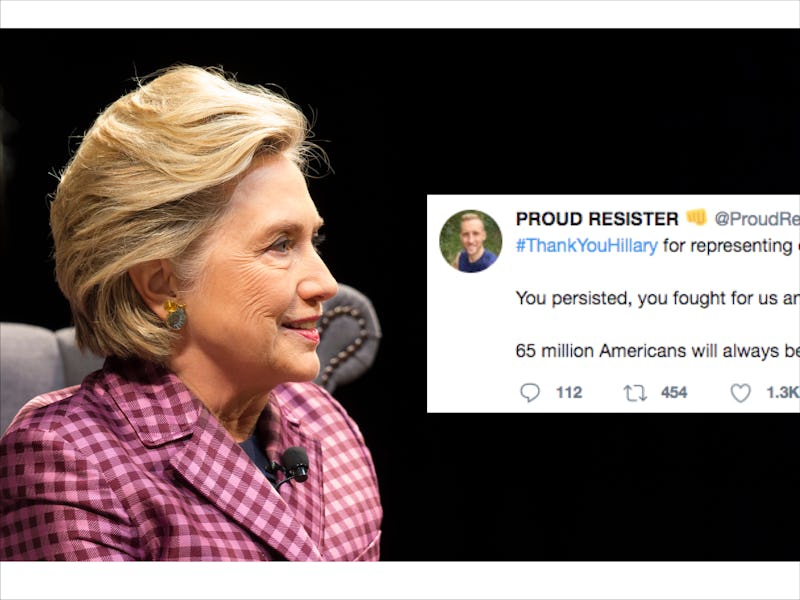 One year ago, Hillary Clinton lost an election that she and the country had expected her to win. Early the next morning, in her emotional concession speech, Clinton asked Democrats and her supporters to "never stop believing that fighting for what's right is worth it." A spate of local elections on the one-year mark of her loss paid off dearly for disillusioned Democrats, who claimed wins up and down the ballot. "Thank you, Hillary" began trending on Twitter in response, acknowledging her impact on the 2017 race.
Trump's defeat of Clinton last November, and Clinton's determination to persevere in her fight for women's rights, inspired a small army of women to run for office this year. Women's activism organization EMILY's List told Vox that it has heard from 20,000 women who wanted to run for office after Clinton's loss. And on Tuesday night, a number of jubilant transgender, female, and minority candidates claimed victories.
The Women's March, which organized mass protests across the country the day after Trump was inaugurated, wrote:
#ThankYouHillary for your leadership. Last night's victory was possible because of the path you have paved (and continue to pave).
Meanwhile, NARAL wrote on Twitter:
#ThankYouHillary for your leadership, for your vision, and for your grace under pressure. You've inspired generations of future leaders (and Nasty Women).
Thank You For Gun Activism
Thank You For Inspiring Women
Thank You For Winning The Popular Vote
Thank You For Inspiring Sons
Thank You For Persisting
Thank You For Your Commitment To Equality
Thank You For Proving Us Right
Thank You For Doing Your Thing
Thank You For Finding The Words
Thank You For Inspiring The Next Generation
Thank You For How You Spend Your Time
Thank You For Engaging With Us
Thank You For Not Yielding Your Space
Thank You For Being An Icon
Thank You For Being There
Thank You For Taking The High Road
Thank You For Not Giving Up
Thank You For Bringing People Together
Thank You For Your Grace
Thank You For Being A Nasty Woman
Thank You For Going On
Thank You For Leading Us On
Thank You For What You Created
Thank You For Showing Little Girls
Thank You For Being Our Champion
Thank You For What You Stood For
Thank You For Fighting
Thank You For Cracking That Ceiling
Just Thank You
Thank You For This Letter
Thank You For All The Angry Snowflakes
Thank You For The Victories
Thank You For Your Patriotism
Thank You For The Words You Use
Although Clinton has said she will never run for office again, she continues to be active in politics, thanks to her organization Onward Together and the fall release of her book What Happened. Clinton continues to be active within progressive Democratic circles, and advocates for the rights of women and girls across the world.