From Boyfriend To High-Waisted, These Are Reviewers' Favorite Plus-Size Jeans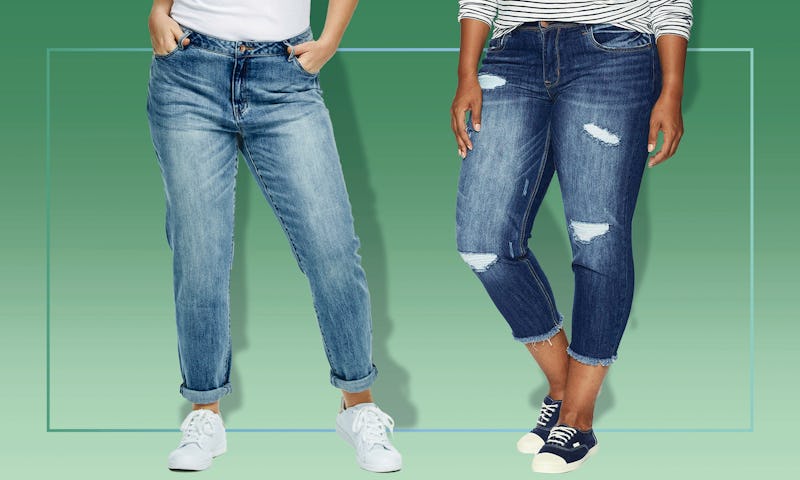 Amazon/Bustle
Even if you love shopping, buying jeans is a commonly-dreaded experience; sizes differ drastically from store to store and since you need to break in denim it can be hard to tell how they'll fit or feel in the long run (i.e., will they hold their shape or will the knees get baggy?). That said, countless people are turning to the internet to find the best plus-size jeans, and according to reviewers, the results have been surprisingly rewarding.
Sure, unlike shopping in a physical location, you'll be unable to try on a pair first-hand (unless you're subscribed to Prime Wardrobe) — but also unlike a physical location, you have ratings, sizing charts, and other buyers' comments and pictures at your fingertips. That information can be an invaluable resource for shoppers, and paired with the high-selection of styles and sizes, even people who hate jeans shopping can find a pair they love.
Overall, jeans styles are highly subjective and the majority of your decision will come down to what you like. That said, the fabric composition is still worth considering; while all denim is made primarily from cotton that's been woven in a specific way, denim manufacturers often include other materials like polyester and spandex. Typically, the higher the percentage of cotton, the less stretchy they'll be, and vice versa.
If you're considered average height (which is 5 feet 4 inches in the US), standard-length jeans are the most readily available. For those who are petite or tall, a couple pairs on this list offer inseam variances to ensure an optimal fit.