These On-Trend Winter Dresses Are Cozy AF — & All Of Them Are On Amazon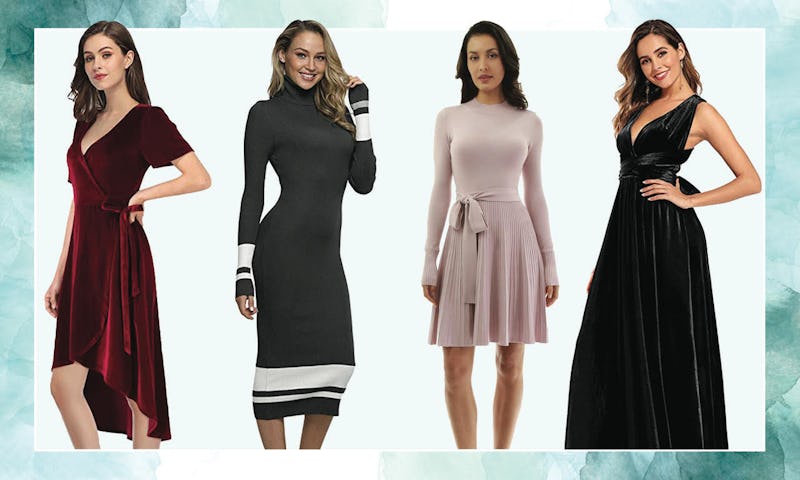 Amazon / Bustle
Dresses are an easy option in the summertime but when the mercury drops, it's tempting to resign yourself to a season of pants-only fashion. That's a little too close to admitting defeat for my taste, so I looked into the best warm winter dresses that could round out a cold weather wardrobe and give you plenty of options to get through the doldrums in style.
Obviously, one dress does not a wardrobe make, despite what hardcore minimalist bloggers would have you believe. Ideally, you'll have a few in the closet to cover all your bases. For lazy days at home or relaxed weekend brunches, spring for casual dresses in a sporty fleece or brushed flannel that will likely work with a lot of clothes you already own. Alternately, wool and acrylic (a synthetic wool alternative) are good fabrics for dresses to wear to work since they keep you warm without skewing too casual. And nothing beats velvet for a formal occasion — the rich texture is heavy and warm and so, so gorgeous.
The best part? Almost all of these dresses can be worn over at least one other item, so you can get seriously bundled up underneath. Sweater dresses turn into cozy tunics when you throw them on over a pair of leggings (like the fleece pair I've included below), and some dresses even have room for a full-length thermal tee underneath without looking bulky. Pick up a few different cuts and styles, and suddenly your wardrobe looks (and feels) a whole lot more inspired — no matter what the weather is doing outside.