The 2017 Golden Globes Were Very Feminist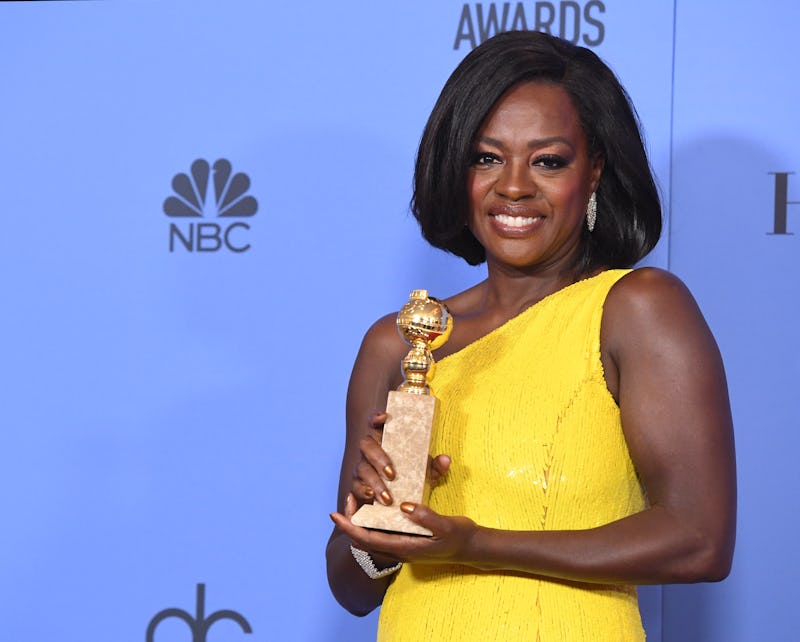 Kevin Winter/Getty Images Entertainment/Getty Images
The 2017 Golden Globes did their best to get the year off to a start that made 2016 feel like a distant memory, and one of the best ways they did so was by honoring so many amazing, talented women. It's a slow process, but the Golden Globes' feminist moments showed that Hollywood is finally making some serious progress when it comes to honoring the women who make up the highest levels of the industry. In the past, it's felt like there were only a few moments here and there that were overtly feminist, while this year's awards were filled with amazing women getting a platform to talk about everything from sexism to politics.
And while there were a few stumbles, the Globes felt like they took a big step forward, acknowledging women in different roles for their amazing work in front of the camera, behind the camera, as inspiration, and as emotionally supportive partners. And even better, plenty of the women honored at the Globes weren't the same people that usually appear on awards shows — there were lots of women of color, older women, queer women, and women who are breaking the mold in other ways. Here's a look back at some of the Globes' most feminist moments.
The Red Carpet Progress
Lots of women showed up on the red carpet wearing suits or pants. Westworld nominee Evan Rachel Wood even spoke up about how her sartorial choice was a purposefully feminist statement. Seeing all those pantsuits on the red carpet reminded me of one lady who's been revolutionizing androgynous red carpet attire for a while now — Janelle Monae, who was also present for the film Moonlight.
The Many Feminist Nominees
What do Crazy Ex-Girlfriend, Arrival, and Hidden Figures have in common? Even though they didn't take home a single award, they were amazing nominated films and television shows that are totally feminist.
Tracee Ellis Ross Getting Her Due
It's not often that a 44 year-old woman gets a big award from Hollywood. But from the moment that Ross walked onstage to accept her award for black-ish, it felt like she was being rightly honored. She even dedicated the prize to her fellow women of color.
Nina Jacobson's Powerful Producer
In addition to the actors that were featured on the show, producer Nina Jacobson was representing the ladies behind the camera. She also got the chance to give a sweet thanks to her wife, something every male producer in Hollywood has done.
Meryl Streep, Part One
Viola Davis' introduction of Meryl Streep, who was receiving the year's Cecil B. DeMille award, was moving, funny, and in some parts, downright weird. The speech was about what it's like to be friends and coworkers with such an icon. The best moment is when Davis told Streep that she made her feel like "My body, my face, my age... is enough."
Meryl Streep, Part Deux
And, of course, this list would be woefully incomplete without Meryl's beautiful ode to art, inclusivity, and speaking truth to power. One of the most powerful voices in Hollywood is a woman, and a bedazzled, three-time Oscar winning one who can make you tear up at an awards show.
Claire Foy's Queenly Command
Netflix's The Crown managed to pull some surprise upsets in the TV Drama category, and while GoT fans might be mad, it was well worth it to hear Foy's amazing speech about having "more women at the center" of things.
Carrie Fisher Getting Honored
Fisher's untimely death in late December clearly hit the Hollywood community hard, as she was not just an iconic space princess, but also an accomplished writer and actor. And from SJP's beautiful red carpet honor to Meryl Streep quoting her in that amazing speech, this feminist pioneer got so much love at the Globes.
Sarah Paulson's Marcia Clark Love
Paulson has been reminding people of Marcia Clark's strength and feminism for the past year now. And since this is likely her last award for her Crime Story role, it was a graceful final comment on how inspiring Paulson found Clark.
Ryan Gosling's Gratitude
Gosling managed to top "Hey Girl" when he thanked his "lady," Eva Mendes, for shouldering what sounds like an incredible amount of responsibility and emotional weight while he was shooting La La Land. This might mark one of the first times that parenting and emotional labor were given a proper awards tribute.
Viola Davis' Speech
And to close things out, Davis' win for Best Supporting Actress was just as eloquent as her introduction for Streep, with the added bonus of her deep emotional connection to Fences and her costar and director, Denzel Washington.
2017's Golden Globes managed to pack in so many wonderfully progressive, feminist moments.
Editor's Note: This article has been updated from its original version.