12 Cropped Flares For Short People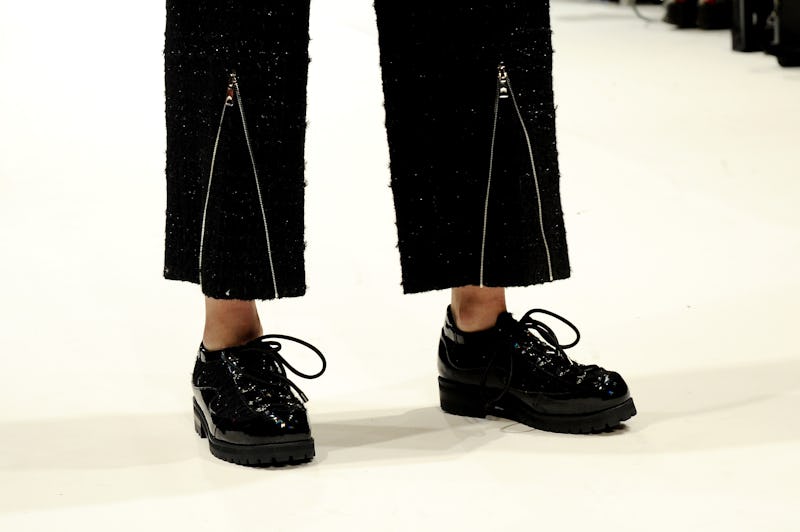 Stuart C. Wilson/Getty Images Entertainment/Getty Images
For the 5'4" and under set, fashion trends can often be tricky. So, what's a short person to do with the popular cropped flares look? Well, it definitely poses a bit of a conundrum, but it's definitely doable with some smart shopping and smart accessorizing.
You see, the main problem with crop flares on petite people is the fact that... well, they often don't seem all that cropped on short legs. Whereas they're supposed to be hitting somewhere between the calf and the ankle, they'll usually end up hitting right above your shoes — which makes them look like normal (potentially ill-fitting) flares instead of cropped ones.
Still, if you're careful with your styling and shopping, you can take the crop flare trend for a spin without looking like you accidentally bought your pants an inch too short. If the brand you like has it, try to buy the petite version of the jeans. Or, if they don't offer a petite option, try to look for shorter inseams: You'll notice that a lot of cropped jeans tend to measure in with a 27 1/2 or 28-inch inseam, which will likely be a little too long for you, depending on your height. Instead, try to find styles that clock in at 26 1/2 or shorter.
And hey, if all else fails, just match them with some killer platforms or on-trend flatform sneakers, and you're totally good to go.
Selena Mid-Rise Crop Boot Cut, $198, J Brand
J Brand makes some of the comfiest jeans around, and with a 26-inch inseam, these sleekly simple crop flares might be just the ticket.
Violeta Flare Crop Bootie Jeans, $80, Mango
That '70s-esque zipper detailing really takes these jeans to the next level.
Paige Riley Slim Crop Flare, $199, Paige
These no-nonsense dark wash jeans will go with everything.
High Rise Wide-Leg Crop Jeans, $70, Gap
Hey, as long as we're talking flares, we might as well give the wide-legged look a try as well.
Cropped Flare Leg Jeans, $85, Eloquii
With an on-trend shade and silhouette, these fashionable jeans are your perfect new crop (especially with their 24 1/2-inch inseam and slightly stretchy denim).
L'Agence Crop Baby Flare Jeans, $225, Nordstrom
So stylish it almost hurts.
Rag & Bone Crop Flare Jeans, $158, Shop Bop
A good dark wash will always be chic, and the dramatic flare pairs perfectly with the raw hem.
Five Pocket Cropped Jean, $26, Melissa McCarthy
Faded to perfection with trendy distressed detailing, these cropped jeans might just become your new wardrobe staple.
AG Adriano Goldschmied Jodi Cropped Flare Jeans, $129, Gilt
Here's another pair with great distressed fading — and a great 26-inch inseam that'll fit you perfectly.
Hudson Jeans Mia Raw Hem Crop Flare Jeans, $111, Nordstrom
The raw hem look continues to grow in popularity, and you know you'll get a lot of wear out of these consummately stylish black crop flares.
Flare Crop Jandri Jeans, $60, Mango
It might have to be a requirement to pair these kickass ankle dusters with a matte red lip and burgundy snakeskin booties, just like the model.
Rag & Bone Crop Flare Overalls, $325, Shop Bop
Now, if you're really feeling like a maverick, go all out with crop flare overalls.
All you need now is a good pair of high-heeled chunky statement mules and you're ready to rock.