12 Lap Desks That Make Working From Home *Way* More Comfortable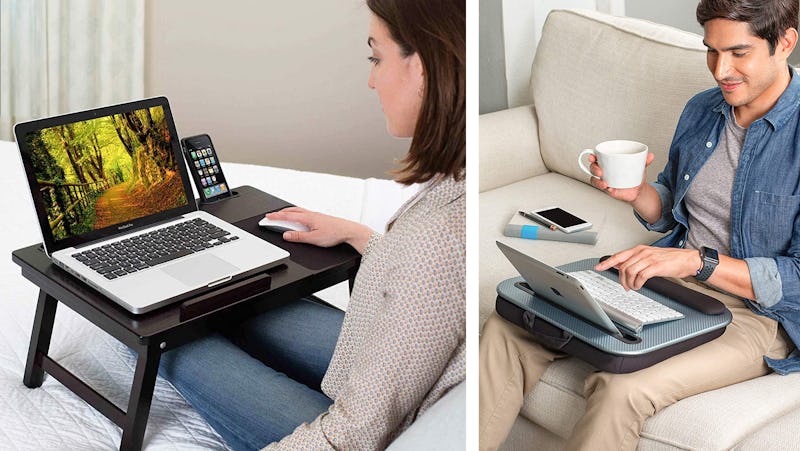 Amazon
Laptops have given us all a wonderful opportunity to work from bed, sit on the couch, or camp out in a bean bag chair. But if you want to take your laptop time to the next level, the best lap desks have enough space to rest your laptop or tablet securely, and are even designed with additional features, like adjustable legs, pull-out drawers, built-in fans, and ergonomic wrist rests.
When you think about it — despite the name — using a laptop directly on top of your lap isn't the most comfortable. The computer gets hot, it jiggles around every time you move, and it's not that fun to have laptop-shaped marks all over your thighs after an hour of Netflix. But a great lap desk keeps your computer supported and your things safe from heat.
Lap desks may be small, but they give you everything you need for a perfect mini-workspace. There are lap desks that adjust, so you can type at the perfect angle to ease wrist pain. Some have cupholders and built in phone and tablet holders, so you can keep all your work materials in one place. And there's even lap desks with built-in fans that keep your laptop from overheating.
These lap desks make your couch the perfect office. So, fluff up your pillows and get ready to work!
We only recommend products we love and that we think you will, too. We may receive a portion of sales from products purchased from this article, which was written by our Commerce team.