These Are The Craziest Met Gala Outfits Of All Time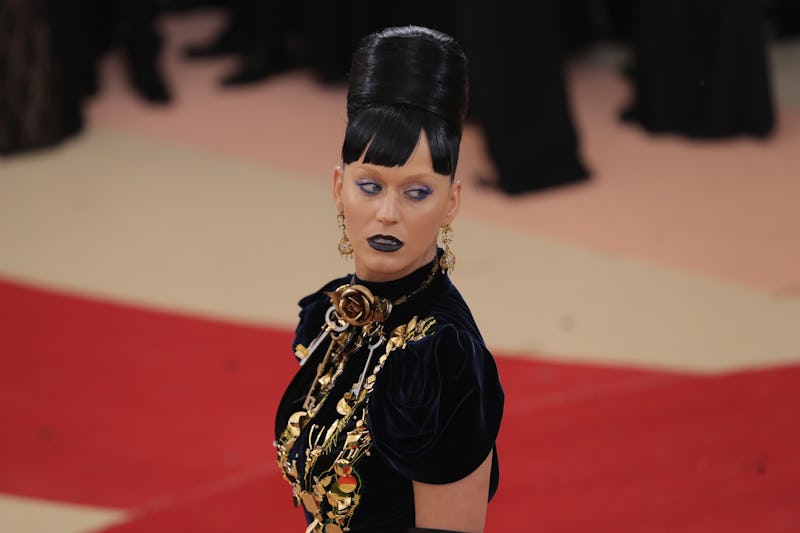 Neilson Barnard/Getty Images Entertainment/Getty Images
Every May, fashion fans gather around their laptops and televisions to watch one of the biggest events in the industry: the Met Gala. This year will be no different, but before the May 1 event, looking back at the craziest Met Gala outfits is the perfect way to get excited. From Zoe Kravtiz fairy-like lace ensemble in 2016 to Rihanna's insanely stunning cape from the 2015 gala, the fashion can run the gambit from mind-blowingly gorgeous drama to just plain mind-blowing for their insanity.
As for the upcoming Met Gala, there's no way to know what attendees will wear. The 2017 Rei Kawakubo Comme des Garçons themed gala is notable for many reasons, but perhaps most notable is the fact that Kawakubo is only the second living designer to have a Met Gala in their honor. The Comme des Garçons aesthetic is unlike any other design house's work, and Kawakubo's designs should be celebrated for their incredible uniqueness and depth.
While the Rei Kawakubo Comme des Garçons Met Gala is sure to be one that features the most innovative fashions yet, looking back at previous events' fashions will only help fashion fans get excited for that first Monday in May.
What are some of the craziest Met Gala looks from the past?
Here are the top 13, in my opinion.
1. Madonna: Met Gala 2016
Madonna's butt and boob cut-outs were definitely jaw dropping in 2016.
2. Katy Perry: Met Gala 2016
Perry's bleached brows and beehive were incredibly daring.
3. Rita Ora: Met Gala 2014
Ora's ballet meets gladiator glam was definitely show stopping.
4. Rihanna: Met Gala 2015
Crazy doesn't have to be a negative word, and Rihanna's incredible gown was definitely crazy gorgeous.
5. Jennifer Lopez: Met Gala 2015
This may just be the most naked, naked dress ever.
6. Sarah Jessica Parker: Met Gala 2015
That headdress, though.
7. Marc Jacobs: Met Gala 2012
The all lace button down was definitely memorable.
8. Christina Ricci: Met Gala 2011
Ricci's 2011 Met Gala gown was gothic drama at its finest.
9. Beyonce: Met Gala 2015
The naked dress to end all naked dresses.
10. Zayn Malik: Met Gala 2016
Malik's metal covered jacket arms were crazy cool in 2016.
11. Katy Perry: Met Gala 2010
A light-up dress had to make this list.
12. Anja Rubik: Met Gala 2012
Even Angelina Jolie couldn't top this slit.
13. Kanye West & Kim Kardashian: Met Gala 2016
Kanye wore blue jeans to the Met, guys. And Kim? Well, Kim looked like a glamazon robot.
There's truly no way to know what's coming for the Met Gala 2017. With Commes de Garçon as the theme for the evening, innovation and uniqueness is sure to be the name of the game. Can May 1 get here any sooner?