Bored At Home? These Are The 14 Best Jigsaw Puzzles To Keep You Entertained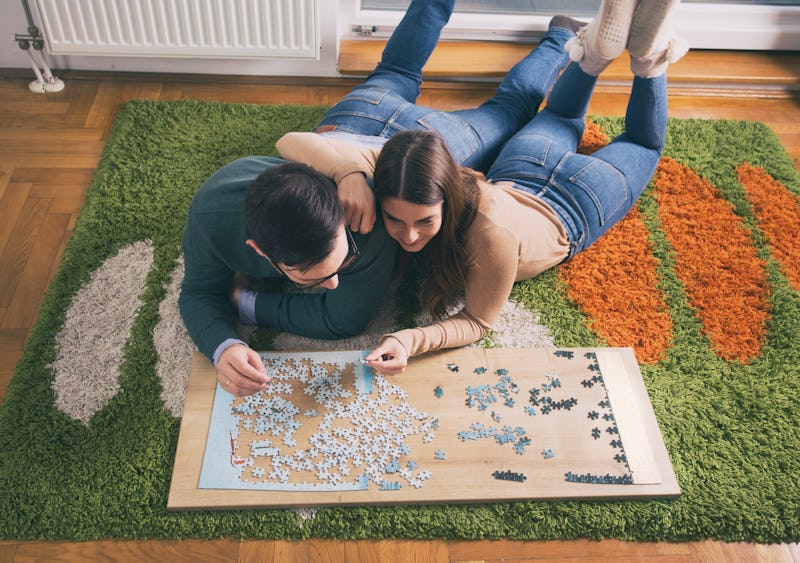 Shutterstock
When you're bored, stuck inside, looking to unwind, or searching for a screen-free activity, to find the best jigsaw puzzles for you, consider the number of pieces, the difficulty level, and the finished size. While artwork, piece size, and color range can contribute to a puzzle's difficulty level, the easiest determinant of difficulty is usually the number of pieces. Most jigsaw puzzles for adults or teens range from 300 to 1,000 pieces. The fewer pieces it has, the easier it tends to be. Puzzles for kids, on the other hand, often have fewer than 100 pieces.
Before you add anything to your cart, you should also check the dimensions of the finished jigsaw puzzle; this is especially important if you'll be working on a smaller surface — or if you plan on hanging your creation up on the wall once you're done.
Then it's time to consider the design. This factor is mostly based on personal preference (read: find something you won't mind staring at for a few days straight), but note that the more repetitive a puzzle's colors and textures, the harder it'll be.
Keep scrolling to see 14 of the best puzzles for all ages and difficulty preferences — the adult ones are organized by piece-count or scroll all the way to the end for the kid-friendly picks.
We only recommend products we love and that we think you will, too. We may receive a portion of sales from products purchased from this article, which was written by our Commerce team.