15 Best Dog Breeds If You Want A Really Active Furry BFF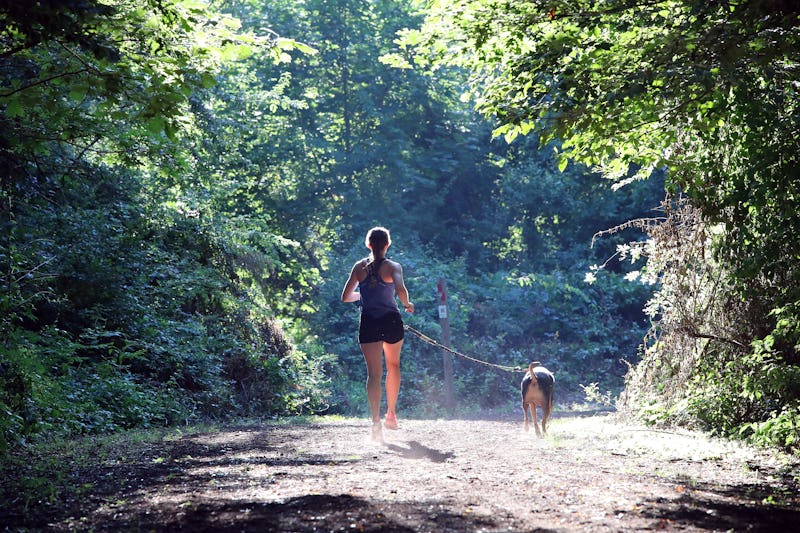 Bruce Bennett/Getty Images Sport/Getty Images
Your Instagram explore page is all dog memes and you say hello to every good boy you pass on your morning jog. Sure, you're a bone fide dog person, but are you maybe also looking for a new BFF to hike side by side with? If the answer is yes-that's-all-I've-ever-wanted, there are a number of best dog breeds for an active lifestyle you can look into. Breeds of all sizes fit the adventure buddy description so there's an active, outdoors-y dog for everyone.
According to the American Kennel Club (AKC) there are over 340 dog breeds in the world, but the AKC only recognizes 192 breeds. Considering that number, you can find a breed for just about any lifestyle you lead. If you're more into sinking into the couch on weekends than trailblazing, there's a dog that will happily plop by your side.
Courtesy of AKC's breed search, you're able to narrow down breeds by activity level. Whether you want a dog that's "calm" or "needs lots of activity" there's a list of future BFFs for you. Clicking on the latter renders 37 dog breeds. That's 37 potential hiking buddies or jogging besties. It's like The Bachelor, but for dogs. Who are you going to throw a bone?