The 1975 Collabed With Greta Thunburg For A New Track With This Urgent Message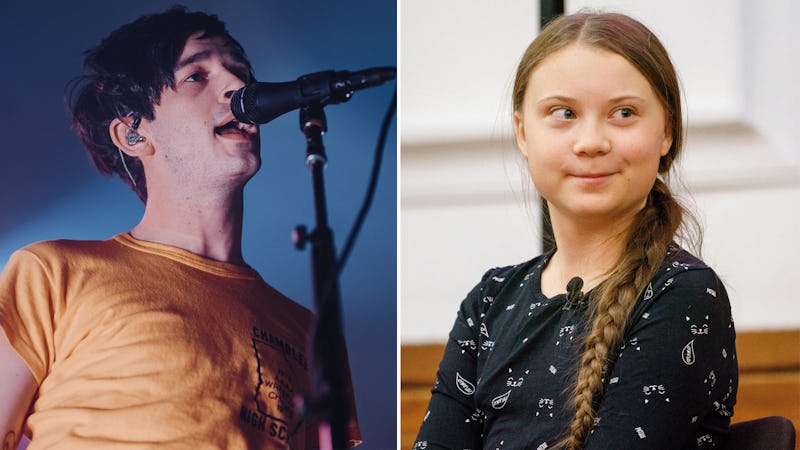 Scott Garfitt/Shutterstock/IBL/Shutterstock
Aptly released on what is set to be the hottest day on record in the UK, The 1975 have collaborated with Greta Thunberg, a 16-year-old Swedish activist who has become one of the world's most outspoken voices in the current climate change debate. Using their platform to boost the importance of acknowledging the dangers of global warming, Thunberg's message calls for the world to recognise this issue as an emergency, and to rebel against the current systems that have put the world at risk.
Set against an ambient backdrop, Thunberg's word reverberates a message of dire importance — that something needs to be done now in order to prevent humankind from reaching a point of no return. The track, titled "The 1975," will open their upcoming album Notes on a Conditional Form, as BBC News reports. Following in the footsteps of their previous album openers, the track will be the first to include vocals and what better way to do this than with such a powerful statement.
The track clocks in at just under five minutes, which in no way affects the significance of Thunberg's words. "We are right now in the beginning of a climate and ecological crisis," she begins. "And we need to call it what it is. An emergency. We must acknowledge that we do not have this situation under control and that we don't have all the solutions yet. Unless those solutions mean that we simply stop doing certain things. We admit that we are losing this battle."
She continues:
We have to acknowledge that the older generations have failed. All political movements in their present form have failed. But homo sapiens have not yet failed. Yes, we are failing, but there is still time to turn everything around. We can still fix this. We still have everything in our own hands. But unless we recognise the overall failures of our current systems, we most probably don't stand a chance.
So, we can no longer save the world by playing the rules. Because the rules have changed. Everything needs to change. And it has to start today. So, everyone out there, it is now time for civil disobedience. It is time to rebel.
That's only a snippet of Thunberg's essay, but it's powerfully impactful even when shortened. Both Thunberg and The 1975 have commented about the release of the song, and they are incredibly proud of how the track will spread awareness for climate change.
"I'm grateful to get the opportunity to get my message out to a broad new audience in a new way," Thunberg said via environmental group Extinction Rebellion. "I think it's great that the 1975 is so strongly engaged in the climate crisis. We quickly need to get people in all branches of society to get involved. And this collaboration I think is something new."
The activist also shared her positivity for the song on Instagram and Twitter, alongside singer Matt Healy, as you can read below:
Extinction Rebellion is incredibly thankful for the proceeds, which will help them further the cause and the need for action. "We thank you massively for your rebellious contribution and promise to put this to good use," the group wrote on their site. "We're loving your commitment to rebel for life with us. Music has the power to break through barriers, and right now we really need to break through some barriers if we are to face this emergency."