According To A Vet, These Collars Will Calm Your Hyper Pup — & Here's How To Use Them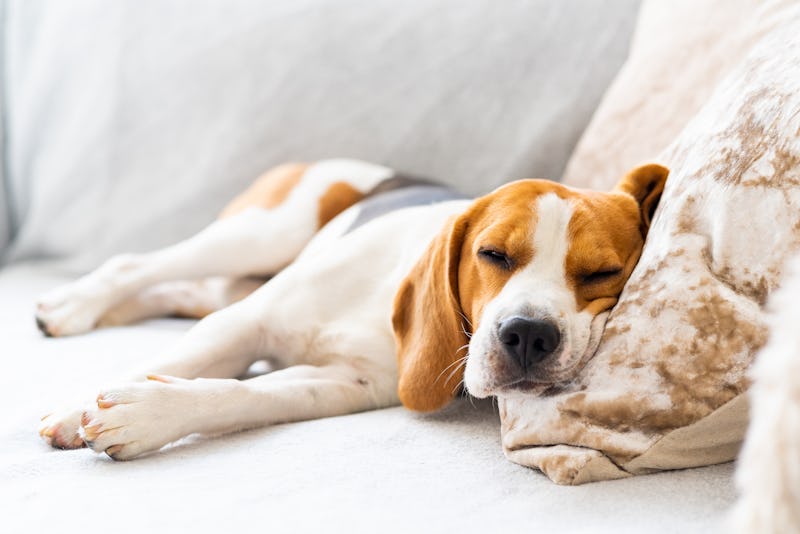 Shutterstock
Despite their often happy-go-lucky personalities, dogs are not immune to stress and anxiety. Whether it's due to separation anxiety, loud noises, or a major change in their environment (such as traveling, moving to a new home, the addition of a new person or pet, or visitors stopping by), stress can cause dogs to bark and act out. Fortunately, the best calming collars for dogs are a great, drug-free option for helping dogs to calm down.
According to Dr. Jamie Richardson, Medical Chief of Staff at the New York City-based Small Door Veterinary clinic, calming collars work in a similar way as aromatherapy candles. "Calming collars give off a synthetic version of the pheromone that's released by a lactating female dog's breast tissue called the dog appeasing pheromone, or DAP," Dr. Richardson explains. "The collars release DAP into the air, and when your dog breathes this in, it helps them feel more secure and calm."
However, Dr. Richardson notes that calming collars are not right for every situation. "For more serious behavioral issues, such as fear-based aggression or other behavioral problems, calming collars can be a great aid along with behavioral modification techniques and pharmaceutical interventions."
A few important things to consider before you get your pup a calming collar: Per indications on the products listed below, these are not a replacement for a regular collar and should not be attached to a leash. They also should not be used on dogs with skin lesions in the neck area. In addition, while not substantiated, some reviewers have claimed that their dogs had a possible allergic reaction to wearing one, so it's a good idea to consult with your veterinarian before using a calming collar.
See below two of the best calming collars for dogs with DAP, including one with additional aromatherapy benefits. And if you're looking to provide even more comfort to your anxious pup, you may also want to consider one of the best calming dog beds.
We only recommend products we love and that we think you will, too. We may receive a portion of sales from products purchased from this article, which was written by our Commerce team.