This New Study Found That Trump's Election Had A Serious Impact On College Students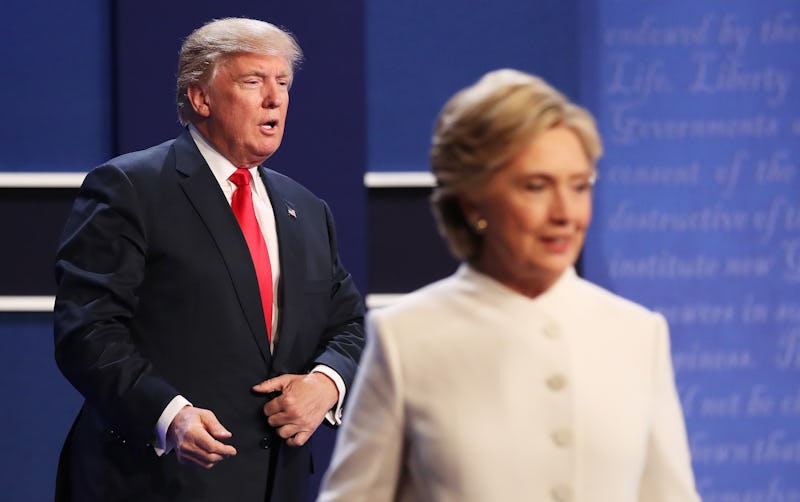 Drew Angerer/Getty Images News/Getty Images
Are American youths over-sensitive, or simply indifferent to politics? From sociologists to politicians, it's a question that has been raised repeatedly. Now, a recent study published in the Journal of American College Health could help people understand how the 2016 presidential election affected college students' mental health — and the results are far from reassuring.
According to the study, Event-Related Clinical Distress In College Students: Responses To The 2016 U.S. Presidential Election, one out of four surveyed college students in the U.S. reported experiencing "clinically significant" symptoms of stress two or three months following the election. Researchers said that such reports are cause for concern as they can be "predictive of future distress and subsequent PTSD diagnoses."
With the help of a research team, Melissa Hagan, an assistant professor of psychology at San Francisco State University, surveyed 769 psychology students at the Arizona State University in January and February in 2017. In comments to The Washington Post, Hagan said that she was compelled to look into the psychological impact that the 2016 election had on her students after Donald Trump won.
Hagan told The Post that her students were "visibly upset" the day after the election, and that "some were even crying." Referring to Trump boasting about sexually assaulting women in an Access Hollywood tape in 2005, Hagan said the students were perturbed by "a candidate who had an audio recording of him describing sexual assault."
In their paper, researchers also stated that race and social class were less indicative of stress while "sex, political party, religion, and perceived impact of the election" were more reliable as criteria for assessing stress in students. Based on such criteria, the researchers found that racial minorities as well as working class people and women were more likely to express such symptoms.
In addition to them, Democrats and religious minorities expressed more unease regarding the American election of 2016. Hagan noted to The Post that party association alone didn't account for stress; other factors played into spiking it among participants.
Hagan and her team's findings are not particularly new, that said. In January 2017, the American Psychological Association (APA) reported that more than half of Americans polled in their study expressed being stressed about the political future of the country. In stark numbers, it was 57 percent of the polled participants.
Among them, Democrats expressed more feelings of stress at 72 percent, while Republicans came down to 26 percent. At the time, APA's Katherine Nordal said, "The stress we're seeing around political issues is deeply concerning, because it's hard for Americans to get away from it. We're surrounded by conversations, news and social media that constantly remind us of the issues that are stressing us the most."
It bears mentioning here that Hagan used the term "stress" and not "trauma." Given, she said, "discussions of deportation and how women are treated, for instance, and the extreme language used by both candidates," American students are developing their own responses. Such circumstances have pushed students to one of the scenarios where they either "can't stop thinking about it" or they "don't want to talk about it."
The researcher said that she hoped students would soon seek initiatives that could improve their mental health. "Young people are not just waiting," Hagan told The Post. "They're absorbing and observing, and hopefully that will not result in clinical impairment but rather inspire them to seek out and find ways to take care of themselves."