This New Line Celebrates The 2016 Election — By Proclaiming How It Made You Nastier & Wiser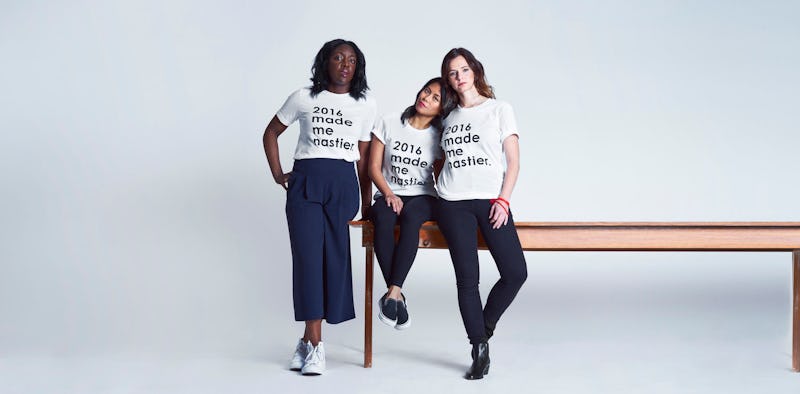 Courtesy 2016Made.Me
A lot happened in 2016. Politics were at the forefront of conversation, but so was self-expression, self-exploration, and self-preservation. It was a defining year in many people's lives due to the complex political climate — and now your closet can signify the growth 2016 forced you to undergo. Canadian designer Ronney Chong created the 2016Made.Me Collection for feminist label I Feel Like Hillz, which was inspired on how the year made people nastier, wiser, and braver than ever.
There's no doubt that it was also a sartorially significant year, too. Graphic tees with feminist sayings and charitable tops took over the market, with many benefiting social good causes. For his collection, Chong came up with five different shirts all starting with "2016 Made Me" and ending with "nastier," "braver," "gayer," "blacker," and "wiser" — words that people embraced louder than ever.
"This idea really originated from a self reflection on how I felt throughout 2016," Chong tells Bustle. "Being a Canadian, I technically shouldn't be that attached to the American election, and yet, stirs in my stomach grew every time I saw a new headline coming from the Republican campaign trail. It eventually broke my reserve nature as a Canadian, I spotted myself vocalizing for equality in a country I can't even vote for."
"That was when I realized: If I was getting louder, imagine the people who are directly living under the inequality, neglect and scrutiny. I wanted a way to recognize those who have grown to speak louder for who they are and how they matter."
The shirts are available for purchase on the I Feel Like Hillz website. According to Chong, he shares the same "values for equality and charitable method" that I Feel Like Hillz believes in, so it was a no brainer for them to work together. The I Feel Like Hillz brand first kicked off during the 2016 with shirts that read "I Believe In Science" and "Nasty Women" and are still creating new political attire.
These are not just terms that are trendy. These are words that people are embracing more than ever and are proud to wear on their sleeve. And they are made for those who have been targeted during President Trump's time in office, including women, and members of the queer community and the Black community.
"At first, it started with 'nastier' because it seemed timely. But thinking it through, I wanted to cross the characteristics that were purely about us as human beings; not citizenship, not affiliations," Chong says. "It's subtle, however, I wanted to make a point that there was inequality to being just ourselves. Nonetheless, there are many other words I haven't used and could."
All in all, people are more themselves than ever. If nothing else, we have the 2016 election to thank for that.
The slogans aren't even the best part about the shirt. All proceeds of Chong's 2016Made.Me collection is donated to the ACLU. That's every single penny made from the $25 shirt.
"I wanted to make sure these shirts didn't just become a gimmick or more words that just get lost in the ever-debateing climate of what's right and what's wrong; I wanted the shirts to apply to some sort of real action. Hence, donating all proceeds to ACLU to protect who we can," Chong tells Bustle.
The shirts come in sizes small to XXL, and are all currently in stock on the website. The brand will be discontinuing the collection in February, so this is your last chance to stock up.
Chong also created the slogans in printable signs just in time to be carried at the Women's March. The idea was "to amplify our message for those who can't get a shirt but still celebrated the same message."
Even if you can't snag a shirt before the campaign is over, the words still have just as much meaning.