The Kennedy Center Honors Include The First Rapper Honoree This Year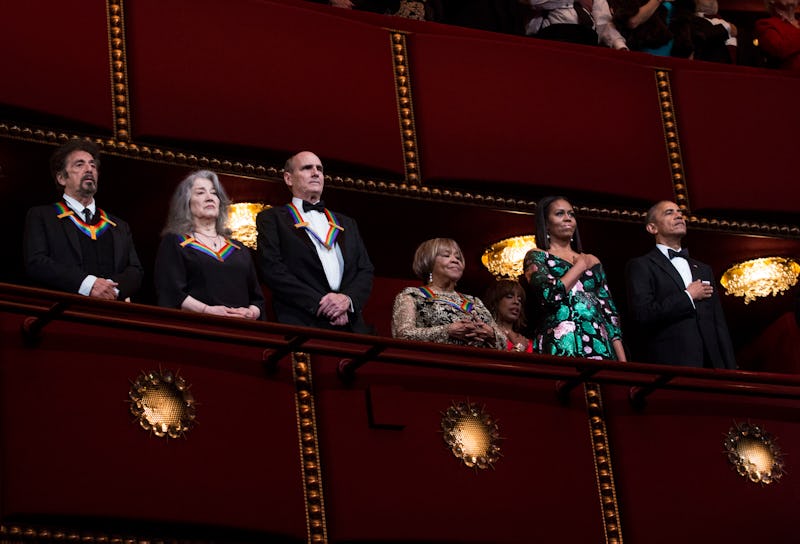 Pool/Getty Images News/Getty Images
Although December seems far away, it's never too early to announce award nominees. According to Deadline, the 2017 Kennedy Center Honors will recognize television writer Norman Lear, singer Gloria Estefan, dancer Carmen de Lavallade, hip-hop artist LL Cool J, and singer Lionel Richie. The New York Times reports, LL's selection is especially noteworthy given that he will be the "first hip-hop artist to receive the award."
According to a statement by Kennedy Center Chairman David M. Rubenstein, the annual celebration of the arts held at the John F. Kennedy Center for the Performing Arts in Washington, D.C., "spotlights the careers of five artists whose talent and ingenuity have enriched and shaped cultural life in America." After 40 years of the ceremony honoring actors, singers, dancers, comedians, and other entertainers, hip-hop is finally being recognized as a culturally significant art form.
LL Cool J, whose real name is James Todd Smith, was a pioneering artist on Def Jam Records at just 16 years old. The two-time Grammy winner has released 13 albums throughout his 33-year career. Kennedy Center President Deborah F. Rutter released an official statement explaining why each honoree is more than deserving of the recognition:
Each of this year's Honorees became known to and loved by the world because of their complete originality and bold genius. They are creators of the highest order, and as President Kennedy's living memorial, the Kennedy Center is proud to shine a light on their boundless "contributions to the human spirit."
Known and loved as "Ladies Love Cool James," the rapper tweeted his thanks on Thursday, Aug. 3 upon hearing the news of his impending honor. "To be the first rap artist honored by the @kencen is beyond anything I could have imagined. Dreams don't have deadlines. God is great."
The 49-year-old rapper also shared his thoughts on receiving the lifetime artistic award with Medium.com:
"My late grandmother passed some wise advice to me: "If a task is once begun, never leave it 'til it's done. Be thy labor great or small, do it well or not at all." That adage has guided everything I have ever done in my life and I couldn't be more grateful because it has led me here."
LL's honor comes after years of complaints of a lack of genre diversity among honorees, according to the New York Times. To rectify that, rapper Q-Tip from A Tribe Called Quest was named the Kennedy Center's first artistic director for hip-hop culture in 2016. Q-Tip, whose real name is Kamaal Ibn John Fareed, said in a statement that the legacy of hip-hop deserves to be acknowledged, celebrated, and respected. "Over the past 40 years, hip-hop has not only served as one of the most influential art forms out of the African-American community, but it's also the prevailing energy of culture around the world."
Come December, LL Cool J's legacy won't be the only thing cemented in history. The genre of hip-hop will be exalted for the meaningful, storytelling that it is at its core.