The 2017 National Dog Show Winner Is Here & He Looks Like A Tiny Chewbacca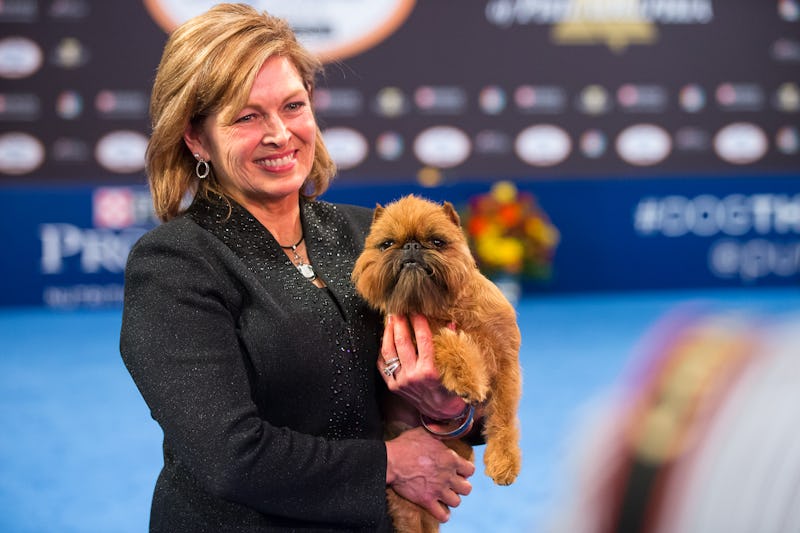 Steven Donahue/See Spot Run Photography
Yes, it's Thanksgiving, but that's not the only reason it's the most wonderful time of the year. On Thursday, The winner of the 2017 National Dog Show Presented by Purina was crowned. If you haven't had a chance to watch, then sorry to spoil the news for you, but Newton the Brussels Griffon (bred by Keith Jacobson and Jo Ann Noffsinger) now holds the prestigious title. As you can probably tell from the photos, he is thrilled — and so is his handler, Susan DePew. "I feel super excited and am very happy for Newton," she told Bustle at the Greater Philadelphia Expo Center on Saturday, Nov. 18 when the event was held.
DePew said that she and Newton will celebrate in the best way possible: "We are going to go get some ice cream, I think. The ring was very hot so Newton will enjoy that." As for whether or not Newton had any idea what's going on or that he is 2017's Best in Show, DePew said, "I don't really think so, it's hard to tell because he is just happy all the time."
Deciding on which dog will achieve the highest honor isn't an easy decision, but there is a science to it. Judge Evalyn Gregory, who didn't judge this year's Best in Show, but judged the Junior Showmanship competition as well as some of the Group competitions, told Bustle about what she specifically looks when judging.
"Automatically, I'm looking for type," she explained. "Type meaning when that breed comes into the ring does it look like the dog that it's representing." From there, she says she looks at the "qualities, characteristics, that make this breed the way it's supposed to be." Gregory added, "Silhouette going around the ring, very important. Movement, very important. The eyes, very important." She also says that "temperament is a no brainer," because as she puts it, "You can't have a good show dog unless the dog has temperament."
Gregory begins judging immediately, including when the dog is standing in the lineup waiting for their turn in the spotlight. "When a dog comes into my ring I am judging from the moment it steps in." She explained that there are "so many small little details I am looking for. I am looking for the body language of how that dog is reacting to the handler. I could easily tell if that dog is having a good day or a bad day."
If she had to choose a favorite breed, well, Gregory's judging job has taught her to love all of them. "Maybe when I was handling I could say which breed was easier for me to handle because of temperament reasons, but now being on the other side of the fence and being a judge I am just privileged to be here." She continued, "To be in the ring, to see such wonderful dogs … This is a gift given to me and I cherish every moment. So every dog I can have is a pleasure to have and is my favorite."
The National Dog Show Present by Purina is known for its celebration of dogs. It's something many dog lovers look forward to every year — and it's the perfect way to spend Thanksgiving. What's better than spending time with family, stuffing your face with food, and watching dogs parade across your television?
If you missed The National Dog Show, don't worry, because an encore is slated to air Saturday, Nov. 25 at 8 p.m. ET on NBC. You might want to set your DVR so you don't miss Newton's shining moment.
Additional Reporting by Lia Beck