Overtime Memes Show A Historic Super Bowl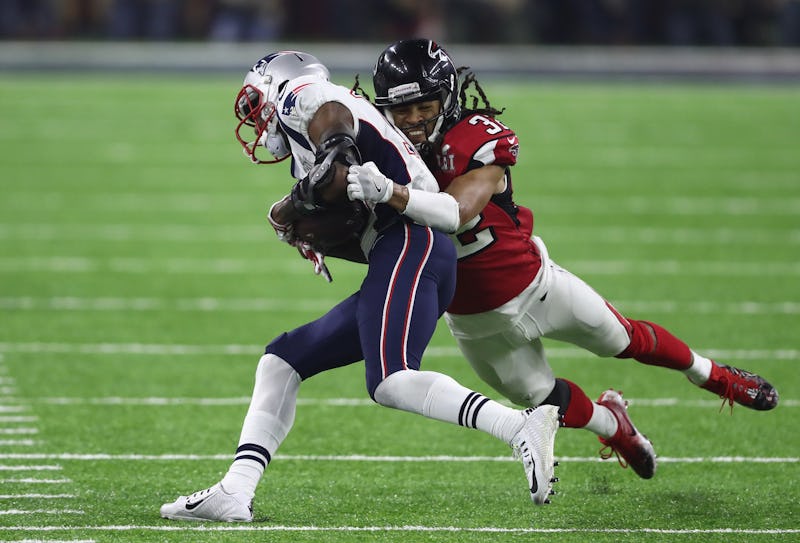 Elsa/Getty Images Sport/Getty Images
Sunday's Super Bowl between the Atlanta Falcons and the New England Patriots unexpectedly went into overtime, as the Patriots scored 25 unanswered points after falling behind the Falcons in the first half. The first Super Bowl game to ever go into overtime, Sunday's game had fans — and likely even some non-fans — on the edge of their seats and at the peaks of their wittiness. The Super Bowl overtime was chronicled by hilarious memes and tweets.
The Patriots forced the game into overtime with a late-game comeback like no other. Although the Falcons had dominated much of the first half, the Patriots held their own to tie the game in the fourth quarter. Once it started, the overtime didn't last long. The Patriots scored a touchdown on their opening drive of the extra period. Because NFL rules state that overtime is sudden-death, that touchdown ultimately won the Patriots the game. In the first-ever overtime, Patriots quarterback Tom Brady won his record-breaking fifth Super Bowl, while the Falcons failed to win their first-ever Super Bowl as a franchise. For Falcons fans, the disappointment surely stung. For Patriots fans, the celebration was certainly sweet. For all viewers, the overtime period was stressful, but these memes might have made it all worth the stress.
Inner Falcons
Was the comeback really Atlanta's fault, though?
The More You Know
Who could forget this memorable halftime show from the archives?
A God Thing
Divine intervention may have played a role in Sunday's game.
How It Works
The overtime was so historic that many viewers may not have known what to watch for.
The Look
There's perhaps no facial expression more stressed than that of a football team heading into overtime after an early three-touchdown lead.
The Refs
It wasn't all just about the players.
More History
Tom Brady had the history books already printed in his head: Seven Super Bowl appearances, five wins, one overtime.
Cash Me In Overtime
Two memes are better than one, am I right?
How Bow Dah
"Cash me outside" has never been so relevant.
Overtime Hate
Even if they knew the rules of overtime, not everyone was on board.
The Real Winner
Let's be real: The true winner of Sunday's big game was Lady Gaga.
Regardless of the outcome, Super Bowl LI will always remain noteworthy for its overtime. The pace of the game dramatically changed within a few moments. So, too, did the pace of the conversation, as viewers watched an unprecedented ending to an already-exciting game.