Women Completely Rewrote The Playbook For How To Run A Campaign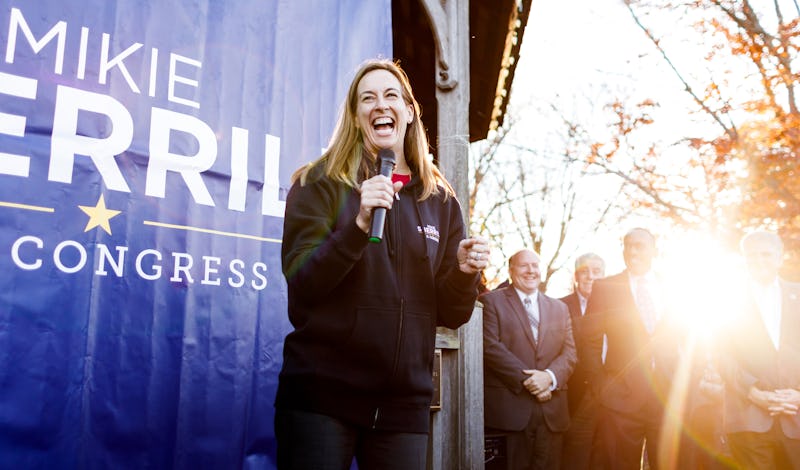 JUSTIN LANE/EPA-EFE/Shutterstock
In this op-ed, Erin Loos Cutraro, founder and CEO of She Should Run, explains how the women who ran in the 2018 midterms completely changed the playbook for political campaigns.
This weekend, I went to a voter rally for Mikie Sherrill, a congressional candidate for New Jersey's 11th district — and a former Navy helicopter pilot, ex-federal prosecutor, and mother of four. She received respect from her male counterparts, who praised her for putting herself out there despite the odds and for the success she has had in doing so. But here's the thing: Their praise, though plentiful, often referred to her as "young lady."
The male speakers at the rally offered patronizing commentary like "That young lady really made a name for herself" and "That young lady is doing us proud." This candidate — a woman, a decorated veteran, a lawyer, a mother, a record-breaking candidate — is a lot of things. But "young lady?" Calling her that set the clocks back to the 1950s and belies the force of nature that this woman really embodies.
As we saw Tuesday night, Sherrill won, flipping an open seat that had been represented by a powerful GOP committee chairman for more than two decades. She will be one of at least 113 women who will head to Congress next year. Women made record-breaking history, but they have also endured irrelevant questions and labels unimaginable for men. They've been called "young lady," held to different standards than men, and had their accomplishments belittled along the way.
And yet in this election cycle, women have persisted on a historic scale. It was only a handful of years ago when women had resorted to begrudgingly picking themselves up, dusting themselves off, and resolving to be grateful enough for how far they've come. But with the midterm results now in, we are seeing a much different culture shift: the playbook has changed.
With a record breaking number of women having run for office this year (since 2016 alone, a whopping 590 women in total have run for governor, the U.S. House, or the U.S. Senate), women have snubbed the playbook and diversified our notion of what a female candidate looks like.
On the campaign trail, they spoke about health care policies, weaving in their personal stories on debt and divorce. They left their pantsuits at home, and proudly exposed their tattoos. In political ads, they put motherhood front and center and breastfed. They showed their physical strength while boxing, mountain climbing, and more.
There is no one formula for a woman to run a race.
Look at Liuba Grechen Shirley, a Democratic candidate for Congress on Long Island, who in May successfully petitioned the Federal Election Commission to use campaign funds to pay for babysitters while she was on the trail. Shirley was defeated in a close race by 13-term lawmaker, Peter King.
Or Lauren Underwood, a candidate for Congress in Illinois, who suffers from a heart condition and decided to run against her congressman after he "broke his promise" to oppose any health care legislation that didn't provide insurance for people with preexisting conditions. Underwood declared victory, unseating Randy Hultgren, a four-term Republican incumbent.
These are just a couple of the female candidates who represented their values in an unvarnished manner and demonstrated that there is no one formula for a woman to run a race. Voters, whose distrust of our political system has reached historic levels, are responding to this level of authenticity with enthusiasm and a sigh of relief.
At She Should Run, we are dedicated to leveling the playing field for women in the electoral arena, so they too may have a seat at the table and help shape a brighter future for our country. Today, we have more than 21,000 new women in our programs, and counting. But our work is far from done.
We remain steadfast on our goal to get 250,000 women to run for office by 2030, but it is critical that people from all backgrounds and walks of life come together in support of women leaders in their communities, regardless of political party, or whether they win or lose. It's not by changing one rule at a time, but by imagining a completely new playbook that expands all of our notions of who can and should serve in government.
As we say at She Should Run, we're changing the face of government in America at every level. By offering a platform for female leaders to break from the mold, be supported, and authentically share their vision for our country, we can continue replacing "young lady" with titles like "Councilwoman," "Governor," "Congresswoman," and "President." We look forward to the day when a woman who is an experienced, capable candidate can appear in any public or political setting, and be respected and addressed as such.