The Female Grammy Nominees' Reactions Are Why They're Being Honored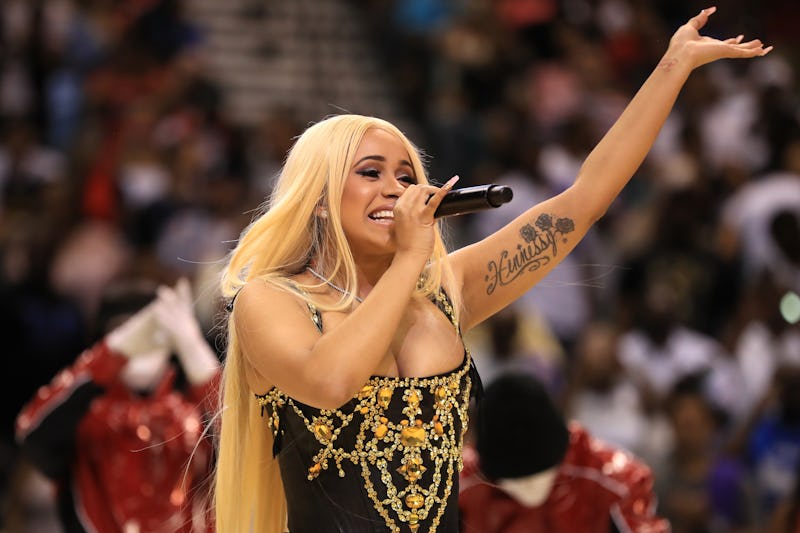 Sean M. Haffey/Getty Images Sport/Getty Images
After being revealed on Tuesday morning, the 2018 Grammy nominations celebrate artists of color and have been recognized and applauded as a major stride in entertainment diversity. Performers like Jay-Z and Kendrick Lamar lead the way with nominations and for the first time ever, the Album of the Year category is entirely men of color and a woman (Lorde). But depending on how it's framed, the 2018 Grammy nominations are either a win or disservice for female artists. Still, Kelly Clarkson, Cardi B, and Alessia Cara are among female nominees who have given reactions that reinforce why they're being honored and further prove they're holding it down for fellow women in the business.
As pointed out by Pitchfork, only 1/5 of Grammy nominees are female in the major "Big Four" categories: Album, Song, and Record of the Year and Best New Artist. The artists being nominated across these categories include Lorde (Album), Julia Michaels (New Artist), Alessia Cara (Song, New Artist), and SZA (New Artist).
On the flip side, the L.A. Times views this year's nominees as a triumph for women and people of color alike, seeing as how the major categories are dominated by these groups. The women who have been nominated this year have already used their platforms to show how proud they are of themselves and each other, celebrating their work and giving hope to up-and-comers.
Reality TV star turned history-making rap performer, Cardi B, was nominated for Best Rap Performance and Best Rap Song for her Billboard Hot 100 No. 1 song "Bodak Yellow." First, she took her excitement to Instagram, saying she "couldn't be more grateful" for the honor. Then, she posted a video proving "why Bodak Yellow is nominated," shamelessly bragging about the success of the song, as she should.
With reactions like these, Cardi owns her hard-earned accomplishments and encourages other women in the business to as well. Still, the Bronx native remains humble. In a video taken during an interview with Capital Xtra the day the nominations were revealed, Cardi clearly tries to wrap her head around it all. "I'm just happy that I'm even there, nominated," she said, showing her astonishment for being honored among greats like Jay-Z and Kendrick Lamar. "It's like... I made it. It's a blessing, it's a lot of hard work though."
Another inspiring reaction comes from industry vet Kelly Clarkson, who was nominated for Best Pop Solo Performance for "Love So Soft." Clarkson, who's already taken home a Grammy, took to Twitter not only to share excitement about her own nomination, but more so make it about the fellow artists she admires, like Kesha and Lady Gaga, who are also being honored.
21-year-old Alessia Cara scored three nominations this year for Best New Artist, Song of the Year for "1-800-273-8255" (in which her writing credits are under the name Alessia Caracciolo), and Pop Duo/Group Performance for "Stay." The singer gave a perfect reaction on Twitter by saying what seemed to be honest and from the heart rather than spewing out a lengthy, disingenuous statement. Basically, she seemed to be humbled, shocked, and just taking it in.
Cara, who's provided anthems about self-acceptance and love, proves to be an authentic and inspiring role model that young women, in show business or not, can continue looking up to. Fans have already poured their love and support for Cara's honor on social media.
This fantastic group of women are doing all female artists, entrepreneurs, creatives, and businesswomen proud. Their reactions to their Grammy nominations are testaments to their hard work, pride in what they do, and support for one another to succeed.