For The First Time Ever, The 5 Finalists For This Major Literary Prize Are All Women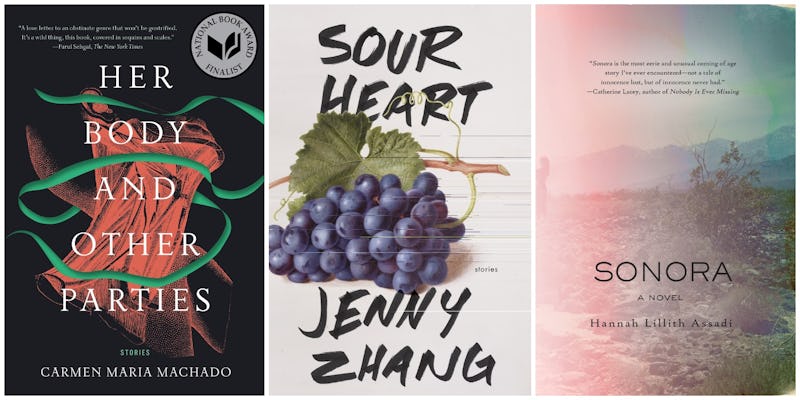 PEN America — the New York City-based nonprofit organization dedicated advancing both literature and human rights by defending free expression and championing writers in the United States and around the world — just announced the finalists for their 2018 Literary Awards today; and for the first time in PEN America history, the nominees in their Debut Fiction category are all women. How's that for a list of female-forward fiction you'll definitely want to add to your TBR pile?
PEN's prestigious PEN/Robert W. Bingham Prize for Debut Fiction was established to recognize a debut novel or short story collection that not only exemplifies some of the best of what fiction has to offer each year, but also as a way to bring attention to new work demonstrates great promise in a debut writer — so basically, we can't wait to see what all these writers have in store for us next. And, definite added bonus, the award comes with a hefty $25,000 prize as well.
If you're a regular Bustle reader, you'll probably recognize more than a few of this year's nominees. Two of the PEN/Robert W. Bingham Prize for Debut Fiction finalists were featured in Bustle's American Woman Book Club last year — authors Hannah Lillith Assadi, for her novel Sonora, and Jenny Zhang, for her short fiction collection Sour Heart. This all-women round up of finalists also includes Black Jesus and Other Superheroes by Venita Blackburn, History of Wolves by Emily Fridlund, and (another 2017 Bustle favorite) Her Body and Other Parties: Stories by Carmen Maria Machado.
Sonora by Hannah Lillith Assadi, $11, Amazon
The award was first given in 2002 and was established in memory of Robert W. Bingham, an American writer and a founding editor of Open City Magazine, who was known for supporting young writers and who — as a young writer and book lover himself — passed away 1999. Previous PEN/Robert W. Bingham Prize award-winners include Jonathan Safran Foer for his novel Everything is Illuminated, Susanna Daniel for her novel Stiltsville, and Mia Alvar (a judge in this year's competition) for her fiction collection In The Country: Stories.
Sour Heart by Jenny Zhang, $19, Amazon
All-in-all, this year's PEN American awards — including the prize for debut fiction, as well as awards for nonfiction, poetry, biography, essay, and more — will award nearly $315,000 to writers and translators of literary works published last year. Winners will be announced on February 20, at the 2018 PEN America Literary Awards Ceremony in New York City. And be sure to check out all of this year's finalists yourself — your TBR pile will thank you, I promise.