This Flu Season Has Been Especially Bad For Children, According To The CDC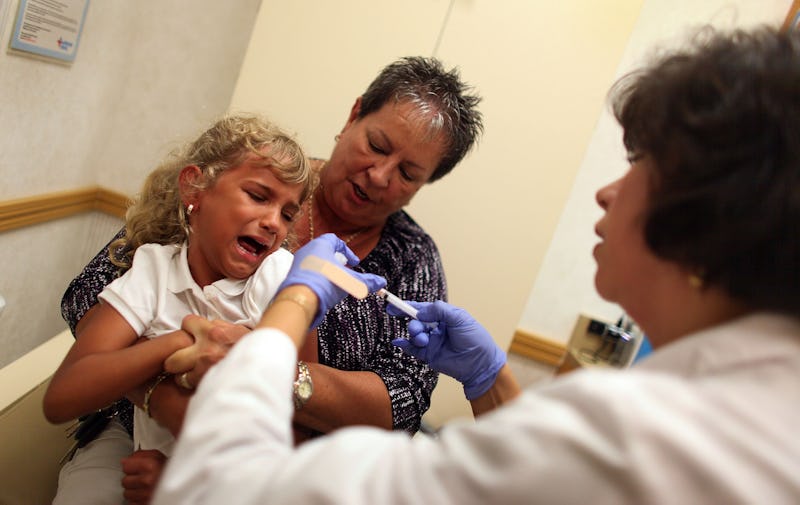 Joe Raedle/Getty Images News/Getty Images
The flu virus has hit the United States particularly hard this season, but the 2018 flu season has been especially bad for children. The Centers for Disease Control and Prevention (CDC) warned that this flu season would last a few more weeks, and on Feb. 2, the CDC reported that 16 more children have died from the flu, bringing the total number of reported pediatric flu deaths to 53. The 16 children who died were the largest amount of children to die in a single week since the 2014-2015 flu season, according to CDC data.
In the CDC's weekly briefing, Dr. Anne Schuchat, the acting CDC director, said, "Unfortunately, our latest tracking data indicate flu activity is still high and widespread." Dan Jernigan, the director of the influenza division at the National Center for Immunization and Respiratory Diseases, reported similar findings in January to Fortune. "Flu is everywhere in the U.S. right now," he said. "This is the first year we have had the entire continental U.S. be the same color on the graph, meaning there is widespread activity in all of the continental United States at this point."
This flu season isn't atypical regarding who is most likely to die from the flu. Nurse Alice Benjamin explains to Bustle why kids are especially susceptible to the flu. "Their immune systems are weaker and don't fully develop to full maturity until their teenage years." She continues, "Their exposure to germs is increased at schools and child care. We all know kids are playful even when they have snotty noses."
The CDC's data shows that out of the 54 jurisdictions in the United States, 51 show widespread virus activity. We are currently in week 11 of the flu season, and the data the CDC most recently released is from week 10. According to NPR, a typical flu season can last 11 to 20 weeks, but Schuchat warned that "we are by no means out of the woods, but there are steps everyone can take to fight the flu."
According to the CDC's weekly report, this flu season has resulted in the highest amount of hospitalizations (51.4 per 100,000 people) since the CDC began tracking comparable statistics in 2010.
Flu symptoms in children are similar to that of adults. It's possible to spot them early and intervene by seeking medical attention. "Worrisome signs are a very high persisting fever, difficulty breathing or shortness of breath, rapid heartbeat or shallow rapid breathing, or significant tiredness or confusion," Schuchat said.
Although symptoms are similar, Benjamin notes that children sometimes have a hard time describing their symptoms clearly. "Kids often can't accurately describe how they feel or what symptoms are taking place. This problem gets worse with infants who tend to display symptoms similar to other, more common issues such as colic pains."
To protect children from the flu, Benjamin recommends teaching good hand washing techniques. "You can protect yourself from the flu and so much more with good hand hygiene." Sneezing and coughing etiquette — e.g., covering your mouth with your elbow or hand, and washing your hands soon after — is another simple lesson that can go a long way in protecting children from catching the flu. "They can use it for themselves and to teach their friends, hopefully decreasing the spray of a cough or sneeze from a person with the flu," Benjamin tells Bustle.
It's important to note that it's not too late to get vaccinated. You may have heard reports that this season's flu shot isn't that effective. But experts like Benjamin do recommend still getting vaccinated to offer some protection from the flu virus. "Get your child the flu shot. I know it's not perfect, but even with a mutated flu virus, the flu vaccine can lessen the intensity and decrease the time frame one has the flu," she says. Dr. Jernigan told NPR that "only about 20 percent of those children who died had been vaccinated."
If you suspect a child you're caring for has the flu, make sure they stay hydrated and well rested. Also, contact a physician to get a professional medical opinion, as well as possibly obtain antiviral medication, which can also lessen the severity of the sickness. To avoid the flu virus all together, avoid sick people, and if you think you're sick, stay away from other people. That means staying home from school and work. This flu season has been incredibly dangerous, but we can protect children from the flu by remaining vigilant and informed.