This Is What The 2018 Midterm Elections Mean For Gun Laws Across The Country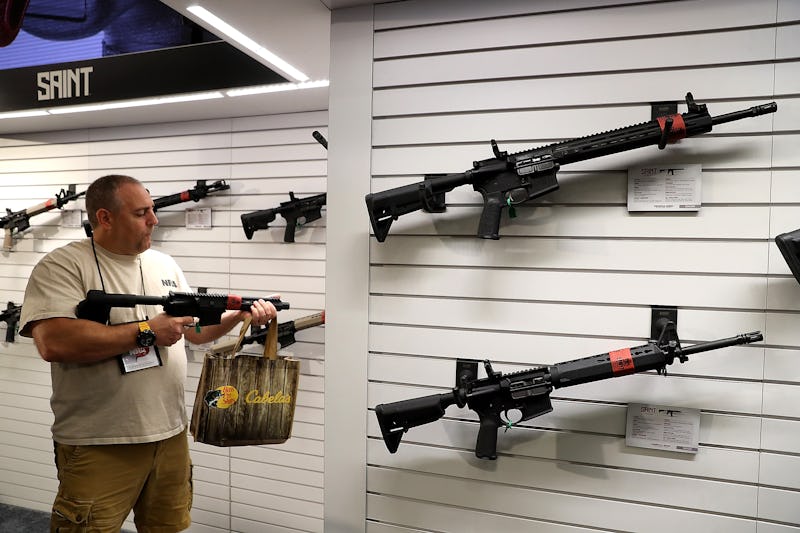 Justin Sullivan/Getty Images News/Getty Images
When looking at the midterm election results, it's easy to get lost in which party took control of the House and the Senate and forget more detailed questions regarding what each particular race meant for certain issues. As American voters have become accustomed to, gun rights were on the ballot in 2018, as they always are. Here's what the 2018 midterms meant for gun laws — or at least what's evident so far.
There were signs going into the 2018 midterms that the conversation around gun control was shifting, with Democrats in less progressive areas campaigning on gun control platforms, as McClatchy noted. It was starting to look like an "F" rating from the NRA wasn't necessarily the end of the road for many Democrats running for Congress, according to The New York Times, so Democrats from congressional districts across the country began openly advocating for gun violence prevention measures that might have amounted to political suicide in earlier elections — like assault rifle bans or strict background check laws.
Even a Democratic majority in both houses of Congress, however, wouldn't necessarily have meant gun laws would change at the national level — which is why Marie Claire outlined key governor's races with gun violence prevention measures on the line. But a handful of Democratic congressional wins signal that change is afoot.
Jason Crow, for example, unseated Republican Rep. Mike Coffman in Colorado's 6th District, replacing a lawmaker who received thousands of dollars in donations from the National Rifle Association (NRA), as BuzzFeed News reports. Crow, who happens to be a former Army Ranger, vowed on the campaign trail to work on banning assault weapons and expanding background checks.
Elaine Luria's and Abigail Spanberger's victories similarly proved that candidates can win on pro-gun safety platforms in swing states like Virginia. Luria, a retired Navy commander who won in Virginia's 2nd District on Tuesday, advocated for implementing universal background checks and prohibiting the sale of assault weapons. Spanberger, a former federal law enforcement officer who won in Virginia's 7th District, also called for a federal ban on assault weapons, as well as increased funding for gun violence research.
Another notable loss for the NRA was Democratic candidate Jennifer Wexton's victory over Rep. Barbara Comstock (R-Virginia). Comstock held an "A" rating from the NRA, while her opponent promised to support legislation that would expand background checks, close loopholes that allow criminals to purchase guns, establish a ban on military-style assault weapons and high-capacity magazines, and allow the government to study gun violence as a public health issue.
Parkland survivor David Hogg tweeted, "Bye @BarbaraComstock :)," on Tuesday.
"From schools to yoga studios to synagogues, we've seen far too often this year the deadly consequences of elected officials who turn a blind eye to the ravages of gun violence. Now, at long last, we have a chance to turn that around," said Avery Gardiner, co-president of the Brady Campaign to Prevent Gun Violence, in a statement. "We are beyond proud of our gun safety champions who are celebrating their hard-earned victories, and we look forward to working with them to pass common sense measures into law."
Lani Seelinger contributed to this report.