The 'Sports Illustrated' Swimsuit Issue Has Unedited Photos For The First Time Ever
When Kate Wasley first found out that she had been chosen for Sports Illustrated 2018 Swimsuit Edition, she was on an airplane from Dubai to London, wishing that she could scream at the top of her lungs. When Hunter McGrady, who stands six feet tall and is a size 16, found out she was chosen, she was simply shocked. In midst of a growing body positive movement, the Swimsuit Edition came to mean much more to them than booking just any modeling gig. This issue, they say, is breaking boundaries by featuring the first-ever unedited photos in Sports Illustrated, which were shot by an all-female crew.
This year's Sports Illustrated Swimsuit Edition features 36 models. Of the cast, five are mothers, four are returning cover models, five are world-famous athletes, four are published authors, 12 are rookies, and six were model search contestants. Danielle Harrington graces the cover as the third black model to do so — behind only Tyra Banks and Beyoncé.
The cast is the publications' most diverse yet, but still only features two plus size models — Kate Wasley and Hunter McGrady. For them, the shoot is about more than just getting a great image.
"I can remember the first time that I saw a plus size model on the cover of a magazine," Wasley tells Bustle. "I was 18 years old and completely insecure. Even just seeing Robyn Lowly... on the cover of this magazine just honestly filled me with so much confidence and joy. I felt so empowered, and if I can be be a part of that movement and just inspire one other girl to feel that way, then that's amazing."
While Wasley is featured in the swimsuit images in the magazine, it's her photos in the In Her Own Words photoshoot that are breaking boundaries. The photoshoot of black and white, nude, and unedited photos was the first of its kind for the publication.
In Her Own Words features an all-star cast of women like Aly Raisman, Paulina Porikova, Wasley, and McGrady, who were all hand-picked to tell their story and wear their words of empowerment on their bodies.
"We each had the ability and the range to do what we wanted with the placement of the words on our bodies," McGrady tells Bustle. "[This year] meant so much more to me, because it was very personal this time around. It wasn't just beautiful photos going into a magazine. It was a very personal memoir almost."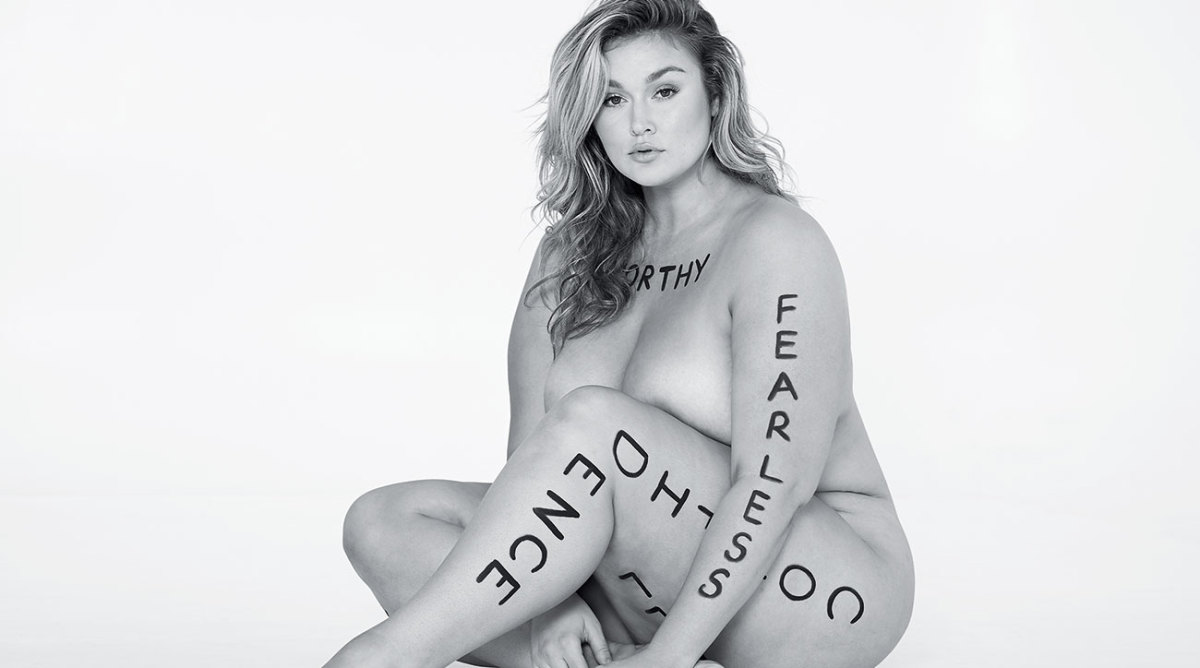 Each woman chose her own set of words and decided on the placement. McGrady was covered in words that she describes as how she would want women to talk about themselves.
"I was very careful choosing my words, because words have the ability to make or break down somebody," McGrady says. "They can either lift somebody up to tear somebody down."
The first word that came to mind for McGrady was "worthy" to reflect what everyone, no matter the size of their body, deserves. She then chose "fearless," because, as she says, she needs to be fearless to put herself out there. But the most unexpected word was "boundless," which she put on the inside of her thigh.
"I chose boundless on the inner part of my leg as the literal foundation of my body," the model says. "As a foundational mindset, you need to have it in order to realize your dreams, desires, and passions. We have to be boundless if we want to continue this narrative of bringing body positivity to light."
Wasley reasoning behind her words was a little different. She thought back to her experiences and feelings that she has gone through tied to loving her body and let the words speak for themselves.
"I dug into how I used to feel about my body when I was quite insecure compared to how I feel now, and how I got there from when I saw Robyn Lawley on the cover," Wasley says about her body confidence journey. "Words that I want women to start using to describe themselves."
While this is undoubtedly the most diverse cast and meaningful message that Sport Illustrated has had to date, not all bodies, ethnicities, and genders are being represented by the magazine. After all, this is only the third issue to feature a black model on the cover and the fourth to feature plus size models. But, as McGrady says, change doesn't happen over night — or without a fight.
"Listen, we're here and we're trying," McGrady says. "You have to give us props for that."