These Soothing Aloe Vera Gels Treat Dry Skin & Acne — So Go Ahead & Slather Them On Your Face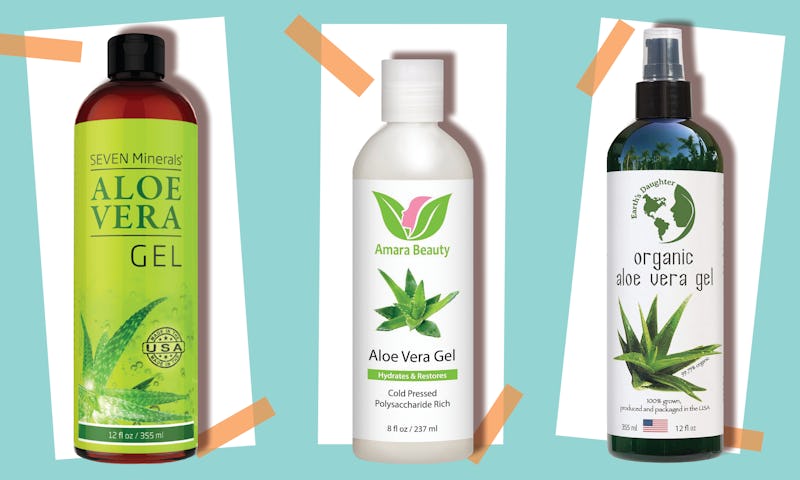 Amazon/Bustle
Fun fact: Aloe vera is one of the oldest mentioned plants on record to be used for medicinal purposes. In fact, there were 6000-year-old carvings found in Egypt that depict the aloe vera plant, which, back then, was considered the "plant of immortality." Now, we consider it the go-to solution for healing sunburns and treating itchy skin. But aloe vera can actually be supremely useful in one specific area of our skin — our face. And finding the best aloe vera gels for your face can be your ticket to a whole host of skin benefits.
Aloe vera may help heal wounds, thanks to two powerful chemicals — polysaccharides and glycoproteins. These chemicals, which are found in aloe, are believed to help increase cellular movement and control the inflammatory response, leading to more rapid healing. That means aloe can help heal dark spots, scars, and acne. Aloe is also especially great if you're someone, like yours truly, who can't help but attack a zit with spot treatments and drying lotion. If your zit has scabbed over, applying a little aloe vera gel may help it heal quickly and without scarring. That in and of itself means aloe vera could be a mini miracle for your skin. And of course, if you've got a sunburn, there's nothing better to slather on your face than this soothing gel (pro tip: store in the fridge — it'll feel amazing).
When shopping for an aloe vera gel specifically for your face, make sure the formula you choose isn't too thick. You want something lightweight that you can use on its own or mix with your favorite moisturizer.
Ahead, find my top three picks for the best aloe vera gels you can put on your face.