The Truth About Blue-Light-Blocking Glasses — & 5 Pairs That Are Worth Your Money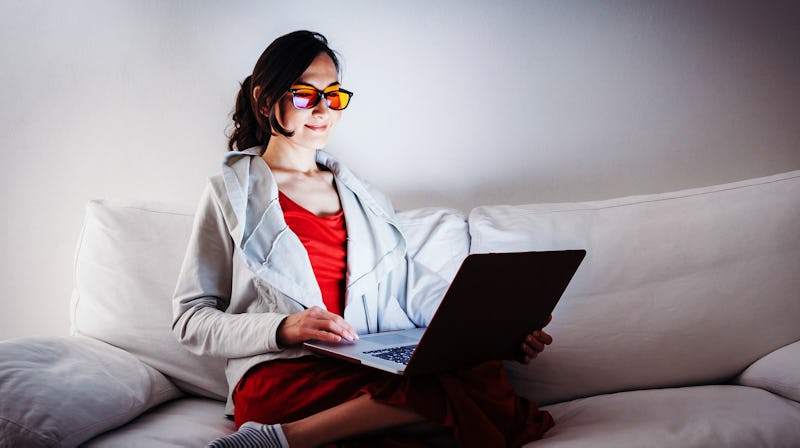 fotolia/Alina
It is a misconception that blue-light-blocking glasses help reduce eye strain when you spend all day looking at computer and smartphone screens. The truth of the matter is that the best blue-light-blocking glasses have the most use when worn at night, as they help block out blue light that might keep you awake into the night.
If you suffer from repeated eye strain from staring at computers or devices all day, blue-light-blocking glasses aren't the best solution. Doctors recommend instead that you take breaks from looking at your computer (some advise 20 seconds looking away for every 20 minutes of work).
How Blue Light Affects Sleep
According to a sleep expert, Dr. Lina Velikova, MD, PhD, "During the day, blue wavelengths boost alertness and improve our mood. However, exposure to blue light in the evening and especially close to bedtime can interfere with our sleep quality. This is because it inhibits the production of melatonin, a hormone that regulates our circadian rhythm."
Dr. Velikova continues, "Our body starts releasing melatonin in the evening when the sun sets to prepare us for sleep. Although any kind of light can inhibit melatonin production, blue light has a much stronger effect, which is supported by a study by Harvard researchers."
Choosing The Right Blue-Light Glasses
What makes one pair of blue-light glasses any different or better than another? While aesthetics will play into which pair you pick (after all, the best pair is the pair you will wear), the key is how much light they block out.
The best glasses for reducing blue-light emissions will feature high-powered lenses that block up to 90 percent of blue light. In your search you'll find blue blockers that come with both clear and colored lenses. The main difference here is that only glasses with colored lenses truly "block" blue light. Glasses with clear lenses can filter out blue light which, while not quite as effective offers a much less conspicuous overall look.
Here are some of the best blue-light-blocking glasses out there, organized by function, design, and wearability to help you find your perfect pair.
This article was originally published on