No Matter How You Slice It, These Are The Bread Knives Home Chefs Swear By (& They're All On Amazon)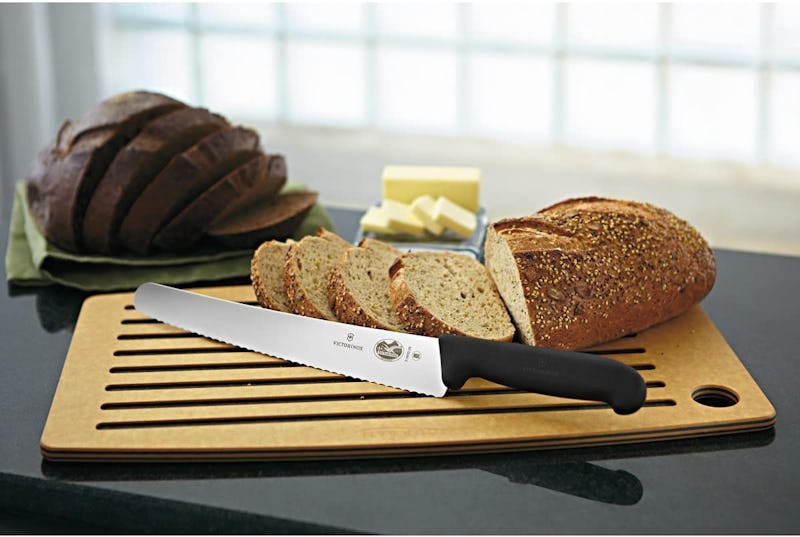 Amazon
Beginner and pro chefs alike know the importance of owning the proper kitchen tools, and bread knives are no exception. In fact, the best bread knives are a lot more versatile than you may realize. Featuring a grippy handle with serrated blades (that are at least 8-inches long), these knives will not only create clean slices though the hardest of crusts, they are also capable of tackling softer loaves and cutting squishy tomatoes or leveling off layers of cake. To figure out which bread knife is right for you, though, keep the following tips in mind when shopping.
Blade Shape & Style
For most people, a traditional serrated knife with pointed, sharp teeth along one side of the edge of the blade will work well to "bite" into hearty breads like a baguette without tearing. While high-quality serrated models are typically also able to manage cutting delicate loaves like challah or brioche, some may prefer a gentler, more rounded (half-moon-shaped) scalloped blade to ensure those tasks are done with as few crumbs and mess as possible.
In terms of blade style, choosing between a straight and curved design will come down to personal preference, however, some experts maintain that the latter gives you the ability to use it in a rocking motion, which is helpful when slicing softer items.
Blade Length & Material
A blade length of 8 and 11-inches will be appropriate for most uses as it's large enough to give you coverage across a wide, round loaf of bread (so each slice can be made in one, smooth motion), but also still allows for control if you want to use it on smaller foods like tomatoes.
Most of these tools are crafted from high-carbon stainless steel, which makes them more durable and gives them a razor sharp edge.
No matter how you slice it, there's sure to be a serrated bread knife that's perfect for you. Keep scrolling to find the best ones you can buy on Amazon.
We only recommend products we love and that we think you will, too. We may receive a portion of sales from products purchased from this article, which was written by our Commerce team.