This $20 Kitchen Gadget Can Whip Up Breakfast Sandwiches In 5 Minutes Flat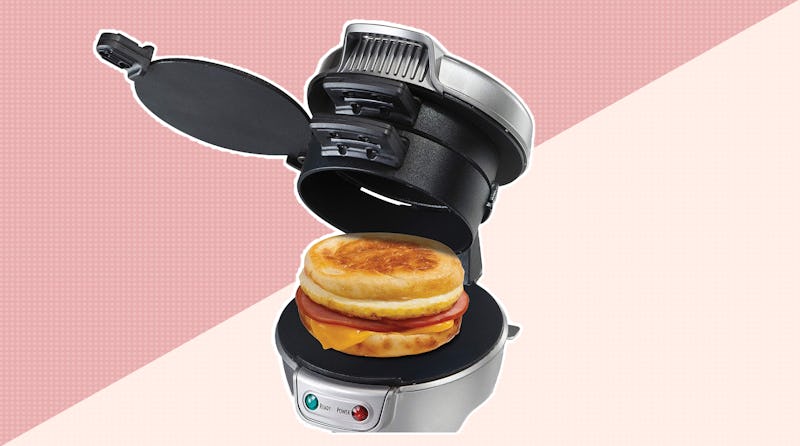 Amazon/Bustle
If you're in the market for one of the best breakfast sandwich makers, then you're doing life right. Not only can these handy kitchen appliances whip up a bacon, egg, and cheese in five minutes flat, they'll also save you a lot of money in the long run on fast food breakfast sandwiches.
Now, in your search for the right sandwich maker, you'll consistently hear about one standout model. The Hamilton Beach breakfast sandwich maker is far and away the most affordable and most popular option out there. For just $20, you can get a single breakfast sandwich maker designed with different plates that can simultaneously toast your bread (or biscuit, bagel, or English muffin), and cook your eggs. With over 4,500 fans on Amazon praising this life-changing kitchen appliance, you'd be in good company if you opted for that sandwich maker.
But, if you know you'll be cooking breakfast for multiple people you might be better off with their dual sandwich maker, which functions similarly but allows you to cook twice as many breakfast sammies in the same amount of time. And, if versatility is what you're after, there's even a breakfast station that can make all manner of breakfast food, and can even brew you a cup of coffee, as well.
Since every second you're reading this is one fewer second you're eating a breakfast sandwich, let's get down to business. Without further ado: the best breakfast sandwich makers you can buy.