Cat Experts Recommend These Sprays To Calm Your Stressed Kitty — & Explain How To Use Them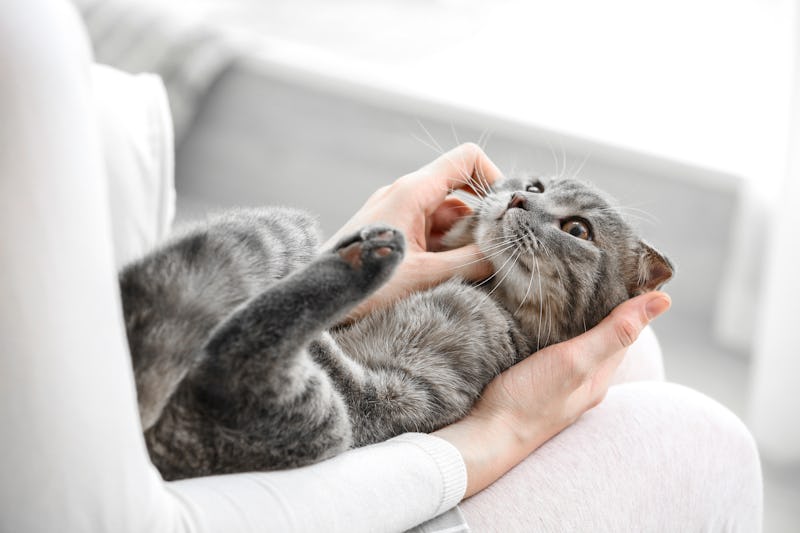 Shutterstock
Travel, vet visits, and new environments can all increase your cat's anxiety and lead to signs of stress, like hiding, hissing, and swatting. To help your cat relax, the best cat calming sprays use pheromones or natural flower essences to make your cat feel like they're in a safe space.
Many calming cat sprays use synthetic pheromones to put your cat at ease. "Have you ever seen a cat rubbing her cheek against a piece of furniture, or even your leg? Cats have facial pheromones that we can't perceive," Hannah Shaw, a humane educator, kitten rescuer, and author of Tiny But Mighty, tells Bustle. "Calming sprays help cats feel at ease by closely mimicking natural feline facial pheromones and helping the cat feel that they're in a safe and familiar environment." When using sprays, don't spray the product directly on your cat. Instead, spray items they interact with, like blankets and carriers.
Sprays can be used daily or as needed, but diffusers are another great option, especially for times when you need more frequent or sustained calming like after a move, helping newly adopted cats adjust to your home, or for cats that get stressed by other pets or visitors, according to licensed veterinary technician Ellen Carozza in an interview with Bustle. These plug into a wall outlet and release pheromone vapor. Cat calming sprays and diffusers are safe to use on cats of all ages, but, as Carozza explains, "Not all cats respond to them, and they are not the 'magic bullet,' but can assist in calming down cats." If your cat hasn't responded to pheromone sprays, or you prefer a pheromone-free alternative, you'll also find a natural flower essence spray below that's similar to the holistic blends used by television host Jackson Galaxy.
Carozza also says that it's important to follow product directions closely to get the best results and be cautious with sprays and diffusers if you or your cat has asthma. Shaw adds: "I recommend starting slow with any new product. If you are concerned about a reaction, stop using it immediately and talk to a vet."
If your cat is often stressed at home, Shaw recommends making lifestyle and environmental changes before adding a cat calming spray to your routine: "All cats, but especially indoor-only cats, need to be provided with a healthy balance of novelty/excitement and predictability/safety in order to be happy. That means it isn't enough to just provide a cozy bed and a bowl of food. You also need to provide things like interactive playtime, feeding enrichment, novel toys, perches, and window views." Shaw also notes that "some cats with extreme chronic anxiety may need medication prescribed by a vet."
To soothe your stressed-out kitty, these are the best cat calming sprays that can help ease anxiety, reduce unwanted behaviors, and make your feline friend feel safe — and they're all available on Amazon.
We only recommend products we love and that we think you will, too. We may receive a portion of sales from products purchased from this article, which was written by our Commerce team.