These Easy-To-Use Cat Toothpastes Are The Key To Preventing Feline Dental Issues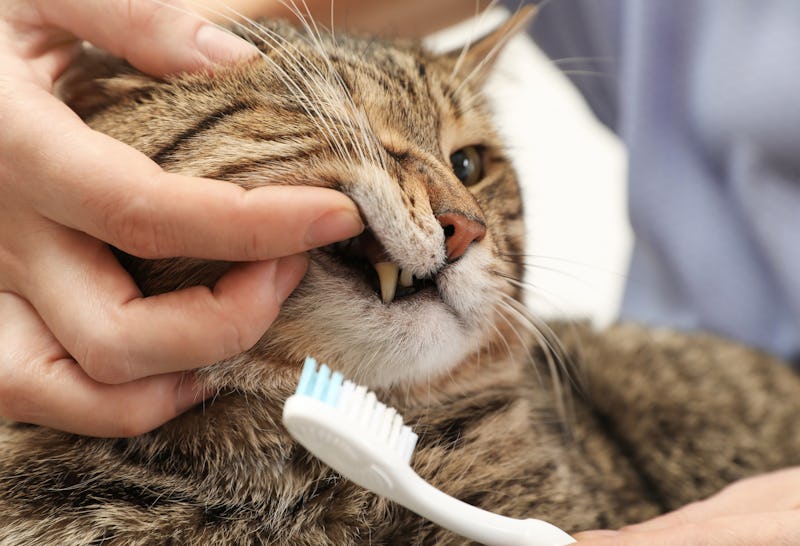 New Africa / Fotolia
While "brushing a cat's teeth" sounds like a metaphor for an impossible task, the best cat toothpastes skip the mint for flavors like chicken and malt to make the important process easier. While cats are good at bathing themselves, they can't manage their own dental health. Dental health in cats and dogs is also one of the most common problems veterinarians see. While some recommend brushing daily, even incorporating occasional brushing into your routine can help with plaque buildup.
Aside from flavor, cat toothpaste works much like our own: It removes buildup through physical brushing as well as with active ingredients. Unlike us, however, pets can't ingest fluoride. Instead, most animal toothpastes will have an enzyme ingredient that breaks down bacteria naturally and is safe if swallowed.
Like with brushing and trimming nails, cleaning a cat's teeth is something that your cat may need to get used to. Pet supply manufacturer Hartz recommends using a cat toothbrush, and after giving your cat a chance to smell and lick the paste, gently massaging their teeth and gums for around 40 seconds. If you start early with a kitten, this also tends to be easier, but with patience and encouragement, older cats can learn as well.
However, many cat toothpastes don't require brushing at all and can be applied with a swab concentrating along the gumline, and the enzymes will work to break down and remove plaque. This list include two like that. Or, if you find total resistance, dental treats with enzymes can also help.
Whichever process you decide on, you will potentially be avoiding high dental bills ⁠— and lots of pain ⁠— for your feline down the road. Here are the top picks.