These Air Conditioners Cost Less Than $200— & They're The Ticket To Staying Cool This Summer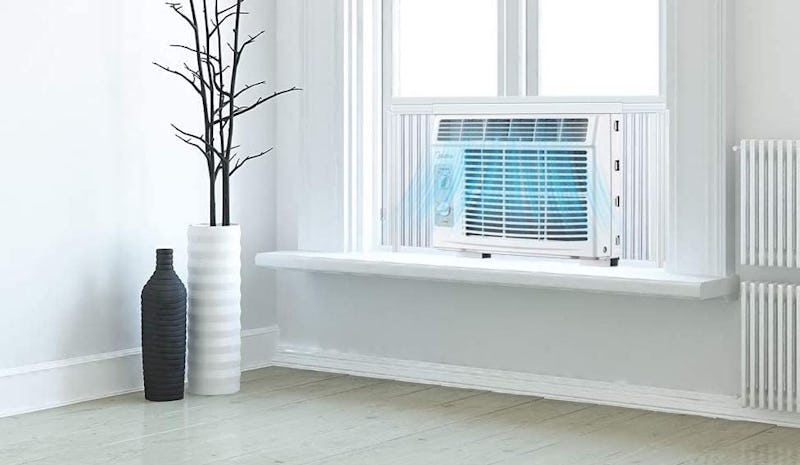 Amazon
You don't have to resign yourself to subpar home cooling options when you're overheated and on a budget. The best cheap window air conditioners under $200 offer many features found on more expensive models (like multiple speeds and relatively quiet decibel ratings) but are limited by their power output (BTUs) and thus the size of the room they are intended to cool off (usually up to 250 square feet).
When shopping for an inexpensive AC unit, you'll want to pay attention to that BTU figure first. The British thermal unit rating — aka the BTU — indicates how much heat a device can remove from one space. The higher the number, the more space it'll cool. Often, with air conditioners in this price range, the BTUs output maxes out around 5,000 to 6,000, which is still impactful, but means they are only recommended for use in smaller rooms up to 250 square feet (making them ideal for placing in the windows of most standard-sized bedrooms or home offices).
The next thing you'll want to consider is the noise level of your air conditioner, which is measured in decibels (or dBA). This spec might be important to you if you're sensitive to sounds (especially when you're trying to sleep) or if you want to be able to carry on a conversation in the same room as your unit. For comparison's sake, the decibel rating for normal chatter at a restaurant is around 60 dBA and the good. news is, you can still find a cheap option that operates quietly under that level.
The last thing you'll notice as you browse for a way to chill out are the ways a window AC can be controlled. It's rare — but not entirely impossible — to find a budget-friendly AC that comes with a digital control panel and a very hand remote control. The more affordable units, though, typically have manual turn-dial controls that require you to walk to the AC to change the settings.
Below, you'll find the best window air conditioners under $200 you can buy right now on Amazon.
We only recommend products we love and that we think you will, too. We may receive a portion of sales from products purchased from this article, which was written by our Commerce team.