If You Get Shin Splints, You Need These Compression Socks In Your Life ASAP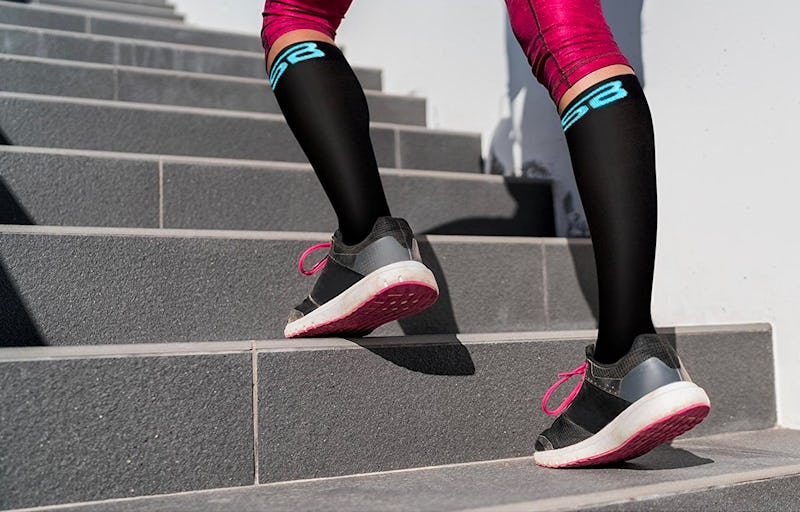 Amazon
If you've ever had shin splints, you know the feeling: achy, painful lower legs that flare up when you exercise and take ages to heal. And, because there are few remedies other than RICE (rest, ice, compression, and elevation), many people turn to the best compression socks for shin splints to help them recover from shin-related pain.
According to Dr. Vishnu Seecharan, a Florida-based podiatric physician and surgeon at LuxePodiatry, compression socks work by "providing support and stability to decrease the strain in the muscles and bones of your lower leg." That means while compression socks won't magically heal your shin splints overnight, they'll give you much-needed relief, provided you pick out the right pair for your needs.
When shopping for compression socks, consider whether you want a pair that covers your entire feet, or a sleeve that is footless and you can slip solely onto your calf. If you suffer from flat feet or rigid arches (two common causes of shin splints according to Dr. Seecharan), look out for a full sock with good arch support. Lastly, when it comes to how restrictive they are, a sock or sleeve with least 20 to 30 mmHg (millimeter of mercury) of compression would be ideal, says Dr. Kavita Sharma of Manhattan Pain & Sports Associates in New York.
To save you the struggle of weeding through potential options, I've put together a list of the best compression socks for shin splints that meet all the requirements doctors recommend.