3 Cooling Weighted Blankets That Will Give You A Better Night's Sleep This Summer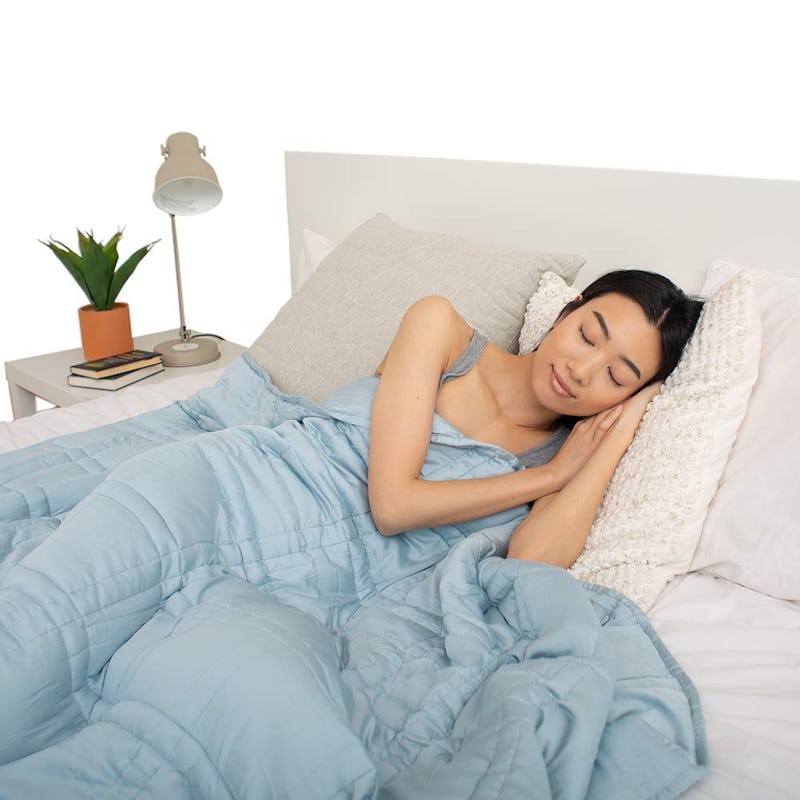 Amazon
In the hot weather, it can feel downright uncomfortable to have a blanket on you. But, if you've become used to the comfort and security of your weighted blanket, tossing it aside while you ride out the summer heat is less than ideal. Enter: the best cooling weighted blankets. This breathable bedding provides all of the therapeutic support of a typical weighted blanket while keeping you dry and comfortable as you sleep.
In case you're wondering what the principal difference is between a cooling weighted blanket and any other one, those that are advertised as cooling are typically made of a fabric like bamboo that helps wick sweat and moisture away rather than absorbing it. Cooling weighted blankets are also thinner and may contain more glass beads rather than dense polyester filling to help keep the blanket lightweight.
When shopping for a cooling weighted blanket, you'll want to pay attention to both the blanket's weight and size. Weighted blankets range from 5 to 25 pounds, and experts recommend picking a blanket weight that's no more than 10 percent of your own body weight plus 1 or 2 pounds.
Meanwhile, the size of the blanket corresponds to typical bed sizes. The size that's best for you depends on your height and whether you want a blanket to cover just your body or one that you can spread across the entire bed.
With that in mind, take a look below at the best cooling weighted blankets.