If You Have Hard Water, These Dishwasher Detergents Will Leave Your Dishes Crystal Clear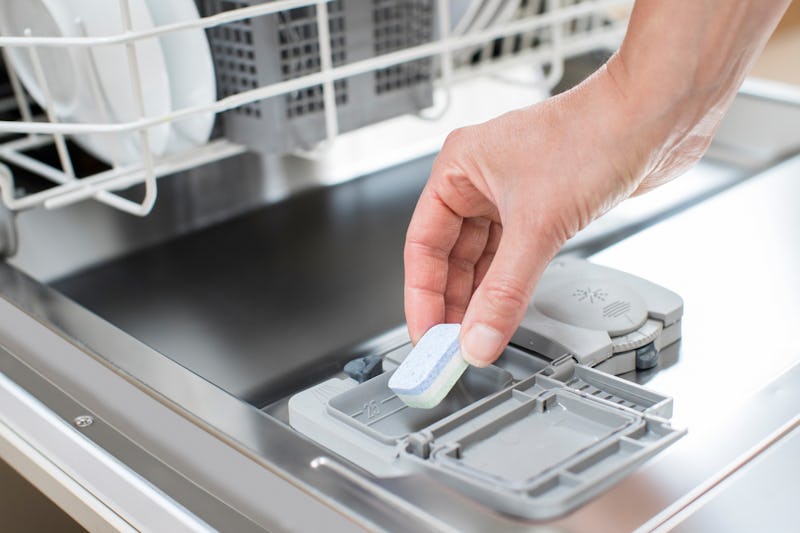 fotolia/Daisy Daisy
Hard water can leave your dishes looking dirty even after running through a dishwasher cycle. But, you're not alone with this issue. In fact the Chicago Tribune reported that a U.S. Geological Survey found that nearly 85 percent of the United States has hard water. Luckily, the best dishwasher detergents for hard water contain water softeners that help counteract this issue. This results in less white film and fewer spots left behind on dinnerware and glass after they've been washed.
When shopping for a dishwasher detergent for hard water, look for one that contains a sodium-based chemical as one of its principal ingredients. Why? Water softeners work by creating a reaction where calcium and magnesium ions in hard water swap with sodium ions to reduce the buildup that lingers on your dishes. So, choosing a sodium-based detergent will ensure your dishes come out spotless every time, even without the use of an additional rinse aid.
While the most effective dishwasher detergents for hard water are typically chock full of chemicals, if using a more eco-friendly product is important to you, you should know that you don't have to sacrifice performance to find a non-toxic dishwasher detergent for hard water. A more naturally-derived detergent can work just as well, even without harsh chemicals like phosphates, phthalates, and chlorine.
For a detailed look at the best dishwasher detergents for hard water, keep scrolling.