Finally Figure Out What Breed Your Dog Is (& Get Important Health Data) With These Pup DNA Tests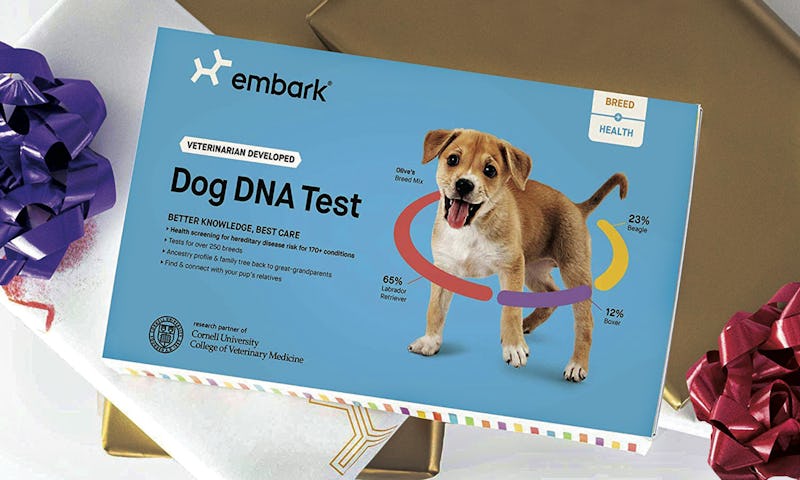 Amazon
If you rescued your beloved pup from a shelter, you've probably wondered which breeds might have contributed to their adorable features. The best dog DNA tests can help to solve this mystery by giving you a breakdown of your dog's ancestry.
How does dog DNA testing work?
On your end, the DNA test is actually pretty simple. You order a kit, collect a sample from your dog via a mouth swab, send it off, and wait for the results.
When the lab gets your pet's sample, they extract and process the DNA. Now this is the point that you will find some of the biggest differences between the dog DNA test kits available for purchase. Certified veterinarian and canine behavior specialist Jessica Hekman, DVM, PhD, told Bustle in an interview that when selecting a test kit, it's important to pay attention to the number of genetic markers used in the testing, as well as the number of breeds tested — especially if you suspect that you have a rare breed of dog. In both cases, more is better.
So what is a genetic marker? According to Dr. Hekman, "Markers are locations in the genome where the test looks. A smaller number means big regions of the genome are missed, and so breeds can be missed as well. In general, this is the more important thing to look for." So, to sum it up, more markers analyzed means more accurate and detailed results.
The time it takes to receive the results of a dog DNA test can vary, but most companies claim you'll get results between two and four weeks after submitting your dog's sample.
What can you learn from a dog DNA test?
The main test results will tell you which breeds make up your pooch (and give you a breakdown by percentage, too). So for example, the results may report that your dog is 50% German shepherd, 25% boxer, and 25% American pit bull terrier. Michael San Filippo, a spokesperson for the American Veterinary Medical Association, told Bustle in an interview that this type of information is certainly fun to have, but it can also "be taken into account when anticipating or preparing for some common health issues that may be associated with the breed." For example, he explained, "if you have a miniature schnauzer or collie, which may be more prone to high cholesterol, you may want to feed your dog a low-fat, high-fiber diet." However, it's always a good idea to consult your dog's veterinarian before making any health or diet changes.
Some dog DNA tests are able to test for other information, too, such as potential genetic health conditions specific to your dog that could contribute to your dog's risk for certain diseases. These tests tend to come with higher price tags.
How much is a dog DNA test?
The price of a dog DNA test kit varies, but usually falls between $60 (for just breed testing) and $150 (for breed testing and genetic health information).
Embark and Wisdom Panel dominate the dog DNA test kit market. Both companies provide kits that Amazon reviewers rave about but for different reasons. Check out the three dog DNA tests below to pick the one that is best for your needs.