The 3 Best Electric Toothbrushes For Sensitive Teeth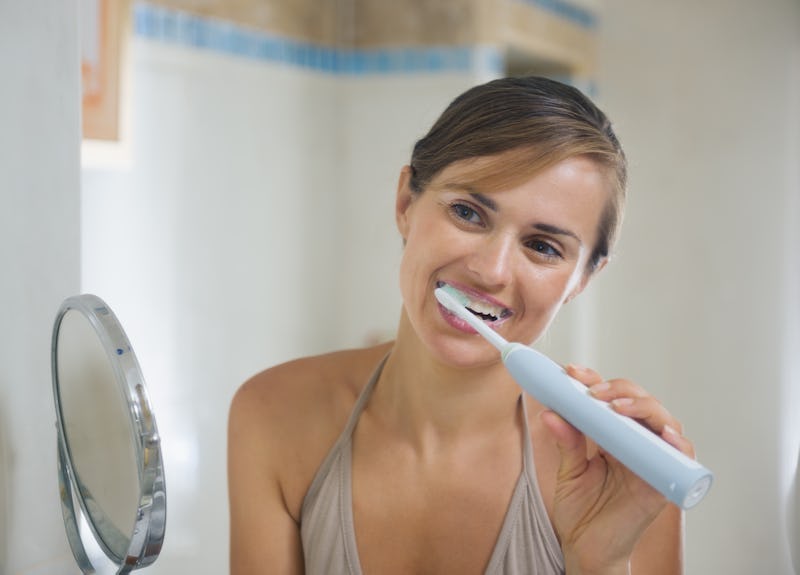 Shutterstock/Alliance Images
When you're shopping for the best electric toothbrushes for sensitive teeth, it's important to look closely at a potential toothbrush's features, since not every brush out there works well for tooth sensitivity. That's because, according to New York-based dentist Dr. Greg Gelfand, DDS, in an interview with Bustle, tooth sensitivity often stems from issues like plaque buildup, receding gums, and/or cavities, and using an electric toothbrush with overly hard bristles or one that vibrates too much may actually cause damage to the enamel of the teeth and lead to even more sensitivity.
However, because electric toothbrushes are more efficient than manual ones at scrubbing bacteria off your teeth, the right electric toothbrush can be beneficial in minimizing tooth sensitivity from these underlying dental problems. The key is finding one that is gentle. So, when shopping for an electric toothbrush, Dr. Gelfand offers this advice: "I recommend that people with sensitive teeth buy an electric toothbrush that has the option of adjusting the power levels. Lower power allows the user to brush thoroughly without damaging the enamel of the teeth. Also, the toothbrush should have an option for extra-soft bristle attachment. The extra-soft bristles and lower power option allows the user to do a gentle, but thorough, cleaning," he says.
Keep scrolling. I've gathered up the three best electric toothbrushes for sensitive teeth that you can buy. And, in case you might need it, there's an affordable toothpaste Amazon reviewers with sensitive teeth swear by. Happy brushing.