The 3 Best Eyelid Moisturizers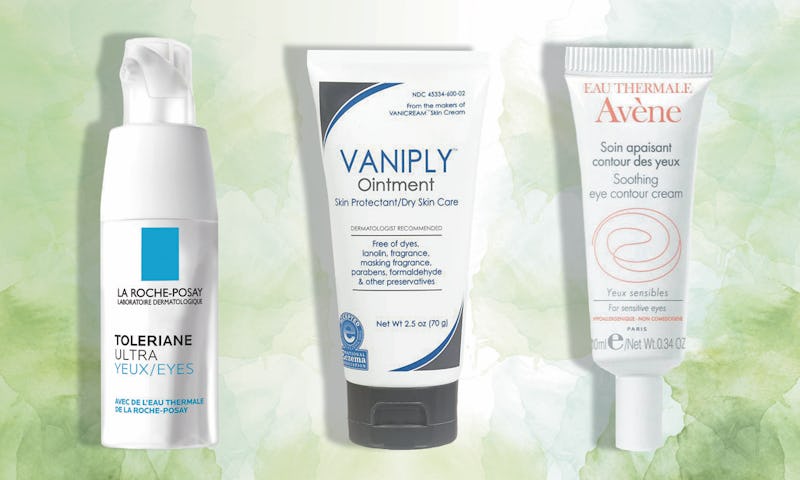 Amazon/Bustle
Whether your face tends to run dry, oily, or somewhere in between, when it comes to treating the skin around your eyes, the simpler the moisturizer, the better. "Skin around the eyes is thin, sensitive, and prone to irritation, dryness, and potential allergic reactions," Dr. Tamara Lazic Strugar, MD, FAAD says of the importance of paying extra attention to products you put around your eyes. While this certainly applies your nightly under-eye creams, you have to be even more careful with what you put on your eyes. This is why it's important to be informed about the best eyelid moisturizers before slathering any old cream on your lids.
When shopping for an eyelid cream, a formula that contains gentle ingredients that won't cause irritation is a must. "When looking at ingredient lists, avoidance of harsh chemicals which can potentially cause irritation or allergies is a priority, especially around the eyes," advises Dr. Strugar. While this varies individually (as in a product your bestie swears by might contain a single ingredient your skin reacts poorly to), there are some overarching offenders Dr. Strugar suggests everyone avoid.
"I always recommend products that are formulated without irritants such as drying alcohol, which often causes stinging, fragrances, dyes, and formaldehyde," she says. "Another ingredient to definitely avoid is methylisothiazolinone," she adds, explaining, "[It] is a strong allergen, and has been banned in Europe already in leave-on products, but not in the U.S."
When it comes to application, the rules are similar to your usual eye creams. Dr. Strugar notes that you should apply a small amount of the product onto the tip of your ring finger and dab it on your eyelids morning and night.
To keep your eyelids healthy and irritation-free, Dr. Strugar recommends moisturizing twice daily, avoiding hot showers, and using a humidifier at night to help put moisture back into the air.
Ahead, you'll find three of the best eyelid moisturizers on Amazon, including one of Dr. Strugar's recommendations.