The 3 Best Filtered Water Bottles For Cleaner, Crisper-Tasting Water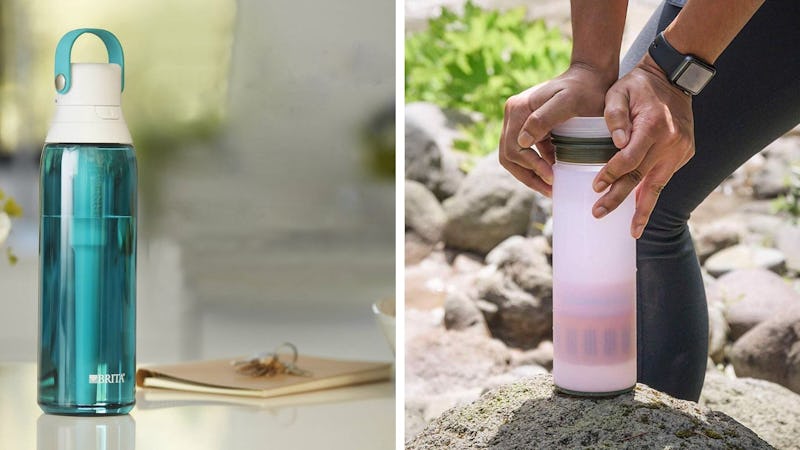 Amazon / Bustle
It's important to drink enough water, but staying hydrated can be a challenge if your water source is treated with chlorine — or worse, if it's legitimately unsafe to drink. Fortunately, the best filtered water bottles can help you reach your hydration goals while filtering out some of the stuff you don't want in your water and improving its taste.
There are essentially two kinds of filtered water bottles: Ones that remove unwanted odors and flavors in tap water, and ones that make untreated water safer to drink. Many water treatment systems use a cost-effective process called chlorination to help eliminate harmful bacteria before it reaches your faucet. Chlorine is safe to drink at low levels, but it can also alter the smell and flavor of the water. If your tap water is safe to drink but you don't like the way it tastes, a water bottle with a carbon filter can help remove the chlorine and give your water a crisper flavor. However, it's important to remember that a carbon filter is no match for untreated or poorly treated water.
If you plan to use your bottle to filter untreated water when you're hiking, camping, or traveling, you'll need a more heavy-duty filtered water bottle. Look for a bottle that's specifically designed to filter out most dangerous bacteria and protozoan cysts that could otherwise make you seriously sick. But remember, you'll still need to follow manufacturer instructions exactly, and you can increase the likelihood of water safety by boiling or treating with iodine in addition to filtration. And regardless, there are no guarantees here that you're removing everything from your water that could make you sick — but it's definitely better than no filter at all.
Whether you need a filtered water bottle for reasons of health or simply a flavor preference, these filtered water bottles are an easy way to drink safe, crisp-tasting water when you're on the go.
We only recommend products we love and that we think you will, too. We may receive a portion of sales from products purchased from this article, which was written by our Commerce team.