For The Freshest Spices & Herbs, You Need This Handy Kitchen Tool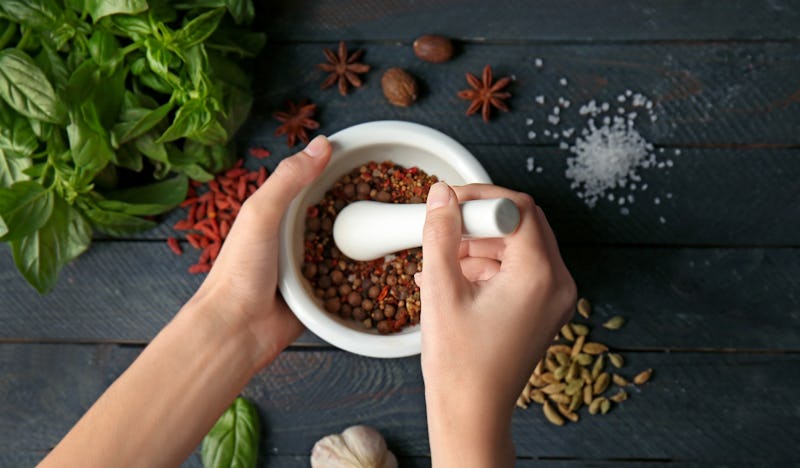 fotolia/Africa Studio
If the thought of getting fresh flavor from dried herbs seems counterintuitive, you're most likely used to buying them pre-ground in jars at the supermarket. But with the right tool, grinding your own dried herbs at home is simple and affordable, and they're guaranteed to have more flavor than something that's been in a cabinet for months (or years). When deciding which of the best herb grinders is right for you, there are a few key things to consider.
First, think about the types of herbs or spices you'll be grinding. Certain herbs like rosemary get woody and tough when dried, making them one of the most difficult herbs to grind. Other herbs are lighter and less fibrous, such as cilantro and parsley. Depending on the type of herb or spice you're grinding, you will want to choose either a manual or electric grinder.
Similarly, you should decide how much work you want to do, and whether you want the convenience of an electrical grinder or the more labor-intensive approach of manually grinding. If you're only grinding a small quantity of herbs or spices, a manual grinder could be sufficient for you.
Last, think about what else you can do with your grinder besides grinding herbs. Tools with more than one use offer a lot of versatility for creating a range of recipes.
Whichever you choose, the best herb grinders will transform dried herbs and spices into fragrant, flavorful additions to your recipes.