These Are The Absolute Best Hyaluronic Acid Serums For Every Budget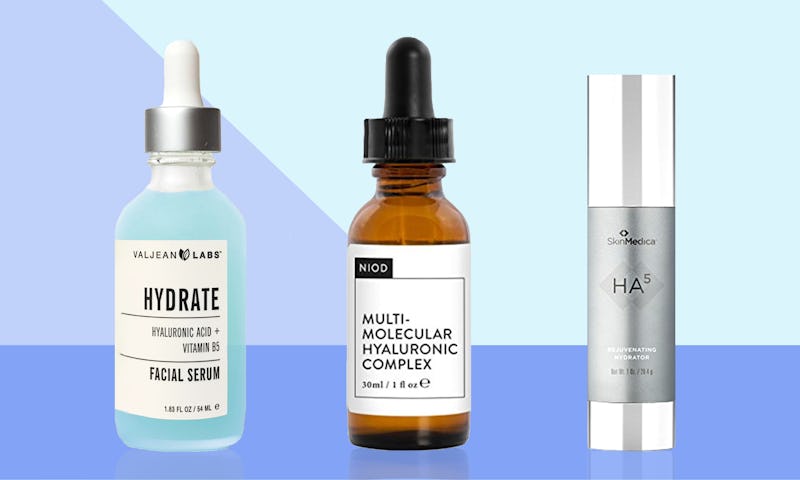 Amazon/Bustle
Hyaluronic acid is one of the most widely-favored skin care ingredients on the market. Known for its ability to retain nearly 1,000 times its weight in water, this intensely hydrating substance is essential for anyone on the quest for a healthy moisture barrier — and who doesn't want that? To truly reap its benefits, you should apply it in serum-form, since serums can penetrate the skin deeper due to their small molecular size. Knowing that serums are the most effective carriers for hyaluronic acid, we set out on a quest to find the best hyaluronic acid serums for any budget.
As for what to look for in a product specifically?
The first thing has to do with a serum's molecular makeup. Pure hyaluronic acid can't penetrate the skin, so its molecules are reduced in size during the formulation process. The lower the molecular weight, the better. Even bare-bone serums should be multi-molecular, which means the formula comprises multiple weights of hyaluronic acid so it can be deposited into different layers of the skin.
Hyaluronic acid also degrades quickly, so slow-release formulas — like SkinMedica's HA5 Rejuvenating Hydrator — are more expensive, but worth the splurge. Because the product lasts longer on your skin, it'll be more effective at giving you the plump, hydrated dermis you're aiming for.
Additionally, while many may think that products with higher percentages of hyaluronic acid are better, this isn't necessarily true. Hyaluronic acid — and its counterpart, sodium hyaluronate, which has a lower molecular size and is just as effective — gets majorly diluted in the formulation process, so these percentage claims are often misleading. Two percent "pure" is the highest industry standard, so if a product claims to be using something higher, it's likely just a solution of hyaluronic acid and water.
We know that's a mouthful, but luckily, we did all of the research for you! We chose three products — which you'll find below — each of which is the best in it's price range. So go on, have a scroll: with one of these top-notch hyaluronic acid serums, you'll be on your way to your healthiest, plumpest, most glowing skin ever.