From Soups To Smoothies, This Is the Best Kitchen Gadget (That Needs The Least Clean-Up)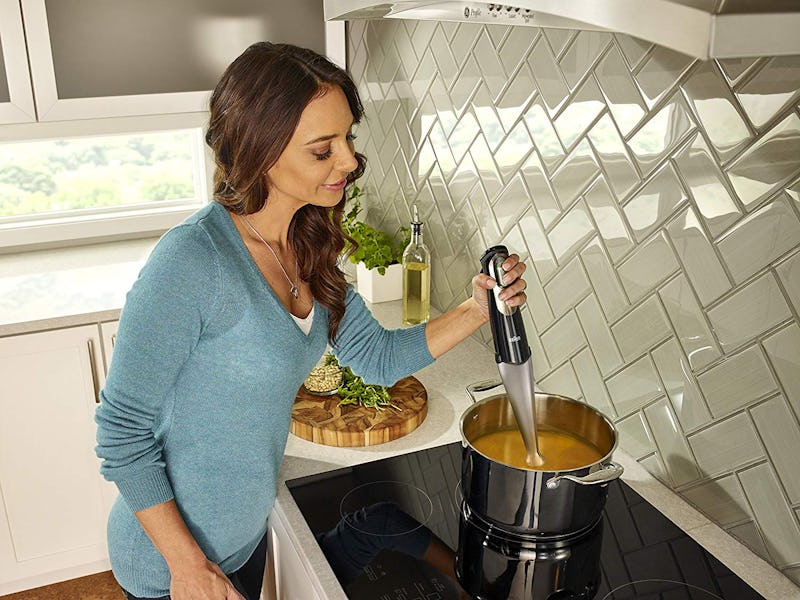 Amazon
You probably shouldn't attempt to make a big batch of frozen margaritas without a blender, or a heavy dough recipe without a stand mixer. However, for everything in between, there's a good chance an immersion blender is the tool for the job. The best immersion blenders can tackle a wide range of kitchen tasks without taking up too much storage space. But at first glance, it's hard to tell the difference between the many models available.
Some immersion blenders (sometimes called stick or hand blenders), come with a suite of accessories to transform their motors into choppers, whisks, and food processors. If you plan to use your immersion blender to puree soups, make dressings, sauces, or milkshakes, a pared-down model can accomplish these tasks and more. But, if you want versatility and have a bit more storage space, consider getting an immersion blender that comes with add-ons.
Since, by design, immersion blenders are meant to be held with one hand (thus freeing-up the other one to steady a bowl or container), stability and comfort are paramount. Look for models with thoughtful handle designs like grips, and easy-to-use speed controls.
Whether you want to make silky-smooth vegetable soups, salsa, or whipped cream, the best immersion blenders below will make quick work of your recipes and help you get creative in the kitchen.