3 Powerful Juicers That Can Handle Carrots & Fibrous Veggies For The Most Nutritious Juices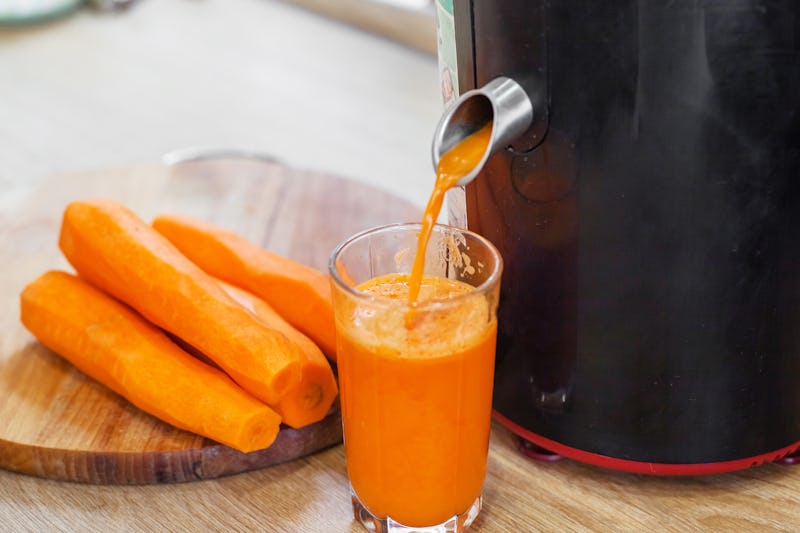 Shutterstock
Carrots are packed with healthy minerals and vitamins like calcium and vitamin A, but if you're not using the right juicer, most of it can end up in the pulp bin rather than in your glass. The best juicers for carrots extract the most juice possible from this fibrous vegetable, leaving you with dry pulp and a full serving of fresh juice. Juicer research takes time, so here are a few things to keep in mind as you shop.
Since carrots are dense root vegetables, they can be challenging for many juicers to process. Some juicers jam or stall under the strain of hard items like beets and carrots, while others simply can't extract juice from fibrous foods. Slow juicers (also called masticating juicers), work by crushing ingredients through a rotating auger that separates the fiber from the juice. They excel at juicing carrots and other hard foods, but some prep is required to get the best results.
Keep in mind that slow juicers are just that: slow. If you're someone who wants to make juice quickly or in large volumes, you might prefer a centrifugal juicer. They work by grinding ingredients into a pulp and spinning quickly to separate it from the juice. Minimal prep is needed as they have large feed chutes, but the nutritional value can be compromised due to exposure to air.
No matter what style juicer you choose, you'll find three of the best juicers for carrots below.
We only recommend products we love and that we think you will, too. We may receive a portion of sales from products purchased from this article, which was written by our Commerce team.