If You Have Hard Water, These Are The Most Effective Laundry Detergents To Get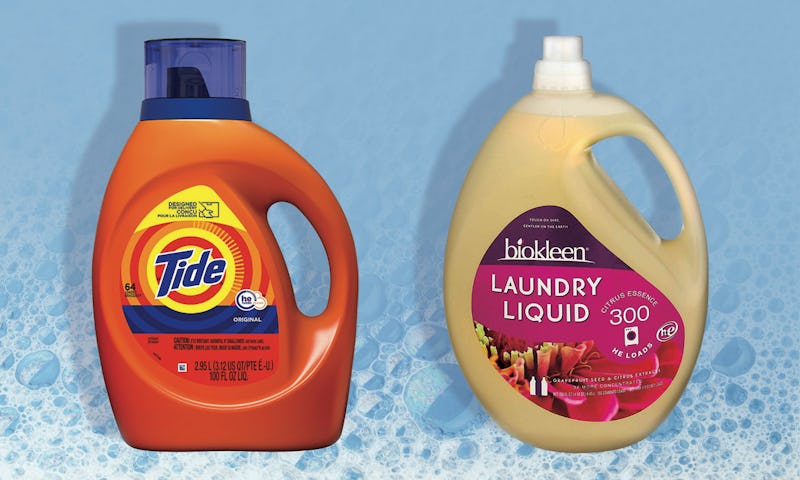 If you live in an area with hard water, you've probably noticed your laundry isn't as soft and fresh as you'd like. Luckily, the best laundry detergent for hard water provides an easy way to combat the issue — and you may be able to keep using the detergent you already know and love.
Hard water has high levels of calcium and magnesium, and it's found in a large portion of the United States. If the water is untreated, the calcium and magnesium attach to your laundry and create stiffness, discoloring, and soil buildup. It also weakens fibers. If you notice these issues with your laundry, it's worth switching to a laundry detergent that will work better with hard water.
So what are the best laundry detergents to use with hard water? Research has found that liquid detergent works equally well in hard and soft water. Liquid detergents often contain ingredients that are resistant to hard water, so they tend to be a better choice than powder detergent. You'll also want a heavy-duty detergent to clean and remove stains from your laundry, but if you have chemical sensitivities, there are effective plant-based options as well.
Or, as an alternative to switching detergents, you can add a scoop of borax to your load of laundry. This versatile cleaner can be used for many tasks around the house, is safe on almost all fabrics (though you'll want to test your delicates just in case), and is great at softening water, too.
Whatever you choose, the best laundry detergents for hard water will quickly make stiff laundry and buildup a thing of past.